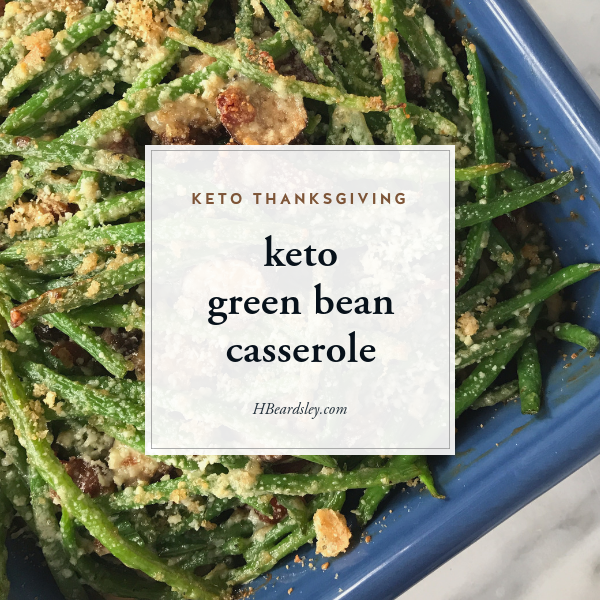 This is a classic Thanksgiving recipe that is super easy to make keto-friendly. The only thing that you really need to modify is the crispy topping. I tried to recreate crispy onion strings to be keto friendly, but honestly? It's waaay too much work. I find that topping the casserole with keto breadcrumbs (a mix of pork rind dust & parmesan cheese) gives it those nice brown savory crispy topping that you're looking for without a lot of extra fuss.
After testing several times with regular fat green beans I had to conclude that green bean casserole is best made using haricot vert – those thin delicate french style green beans. They are the most flavorful and tender. If you use big fat green beans they are fibrous and woody and I think they have no flavor. So please, use haricot vert! Trader Joe's has them cleaned and trimmed and ready to use in 12 oz. packages in the produce section. You'll need two bags for this recipe.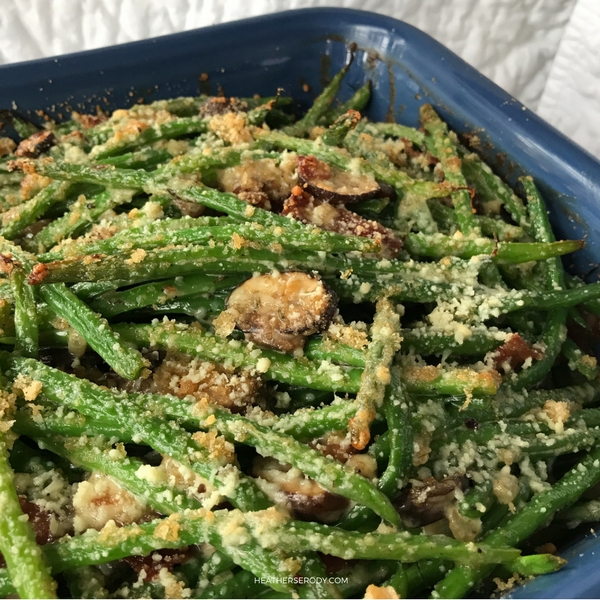 holiday prep tips:
Green bean casserole can be made up to 2 weeks ahead of time. Just assemble in your gratin dish, but do not bake in the oven or add the keto breadcrumbs. Cool completely in the baking dish, cover tightly and freeze.
Defrost casserole in the refrigerator for 1-2 days before eating.
Remove casserole from the refrigerator 1.5 hours prior to reheating to allow it to come to room temperature. Add breadcrumb topping prior to reheating.
To reheat place in a 350ºF oven, covered for 20 minutes. Then uncover and continue to reheat until topping is golden brown and crispy (about 10 more minutes.) Place under the broiler if necessary to get topping browned.
macro comparison
William Sonoma's green bean casserole: 165 calories, 9 g fat, 6 g protein, 15 g carbohydrate, 3 g fiber
my keto green bean casserole: 281 calories, 21 g fat, 16 g protein, 6 g carbohydrate, 3 g fiber
SaveSave
SaveSave
SaveSave
SaveSave