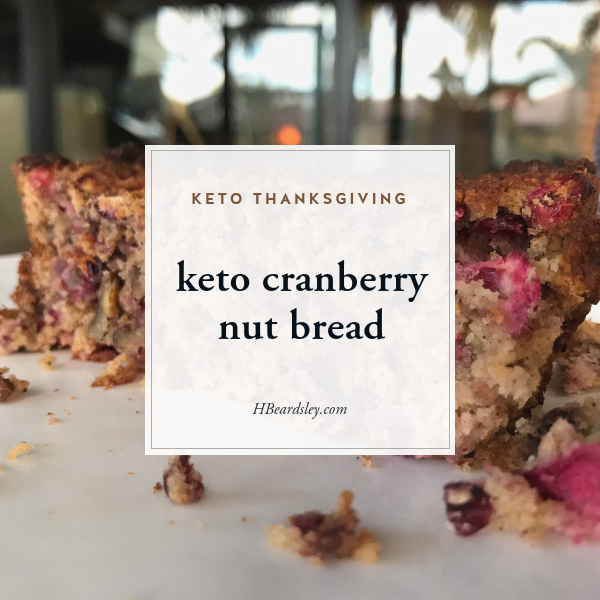 We grew up on cranberry nut bread for the holidays. People always went crazy over my mother's recipe, so she often made up big batches to give away as hostess gifts and for my grammar school teachers for the holidays. When I finally asked her for the recipe I was surprised that it was just the basic recipe on the back of the Ocean Spray cranberry bag. I figured, how hard can it be to recreate this with keto-friendly sweeteners & almond and or coconut flour?
Well, more than 8 recipe tests later, I finally came up with a recipe that tastes just as good, if not better than its carb filled cousin. It forms a nice top crust and doesn't rise as high as the carb-heavy version, and is possibly a bot more crumbly, but it's delicious kids, Really yummy. note that the carb count is low enough that you can actually enjoy sweet cranberry nut bread again!
holiday prep tips
This cranberry nut bread can be made a week or more ahead of time and frozen until ready to use.
Allow cranberry bread to completely cool before first wrapping with plastic wrap, and then wrapping again with foil before freezing.
Remove from the freezer and allow the bread to come to room temperature at least two hours before you want to eat it.
nutrition comparison, per slice
This recipe: 104 calories, 9 grams fat, 3 grams protein, 5 grams carbohydrate, 2 grams fiber
Traditional Recipe: 154 calories, 4 grams fat, 3 grams protein, 27 grams carbohydrate, 1 gram fiber
SaveSave
SaveSave
SaveSave