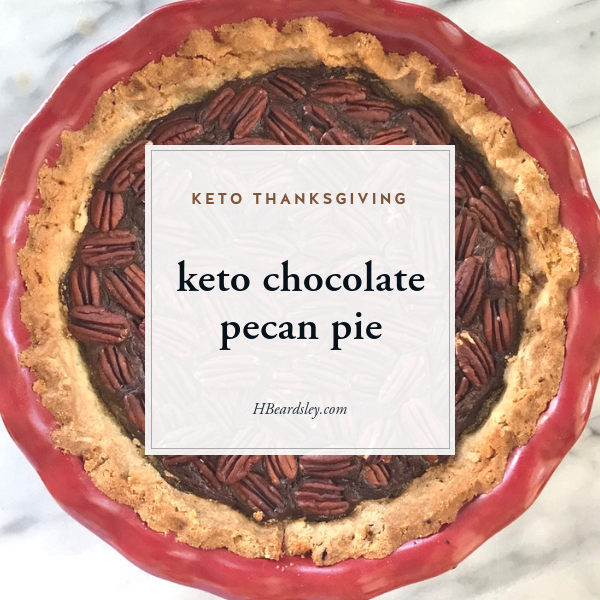 Now that I'm eating low carb, pecans are my new best friend. Pecans are very keto-friendly because they have some of the lowest carb counts of all nuts. So, I knew I had to create a keto chocolate pecan pie for my Thanksgiving Meal Plan because chocolate and pecans are totally best friends, am I right? Not only does this pie bring creamy dark chocolate filling together with the taste of toasted crunchy pecans; but a slice contains just 9 total carbs per slice with 4 grams of fiber. Compare that with a traditional pecan pie that contains almost twice the calories and 65 grams of carbohydrates per slice! That's just crazy town! Isn't it great to know that you can still enjoy this sweet and yummy dessert without sabotaging your health & nutrition goals?
I tested my ketones and blood sugar the morning after eating this pie and I was still in ketosis and my blood sugars were on point. Of course, all pies are calorie-dense, so portion control is key, make sure you cut this pie into 12 slices.
Pecan Pie always reminds me of one of my favorite lines in When Harry Met Sally when Harry gets silly and asks Sally to mimic his accent for the rest of their date and he has her say,
…but I would be proud to partake of a piece of your pecan piiieeeeeee."
In fact, I just decided that after I'm done with the cooking for 25 for Thanksgiving this year, I'm going to partake of a piece of my chocolate pecan pie while watching When Harry Met Sally. It's gonna be so great.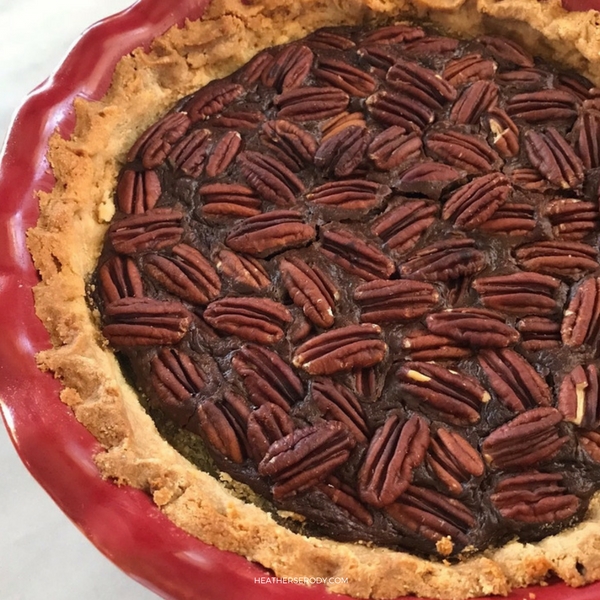 special ingredients that you'll need
Decadent desserts don't just magically become low-carb, you need to make sure you have on hand a few special ingredients, mmm'kay? Because there is no wheat flour in this crust you'll need to be sure and use xanthan gum, which will help your keto crust hold together. Don't wait until the last minute to order these, grasshopper!
holiday prep & storing options
You can make the dough and store in the refrigerator up to two days ahead of baking your pie.
After cooling completely, you may
macro comparison
Ree Drummond's Pecan pie: (1/12th): 616 calories, 37 g fat, 65 g carbohydrate, 6 g protein, 1 g fiber
My Keto chocolate pecan pie: (1/12th): 349 calories, 34 g fat, 9 g carbohydrate, 6 g protein, 4 g fiber
SaveSave
SaveSave