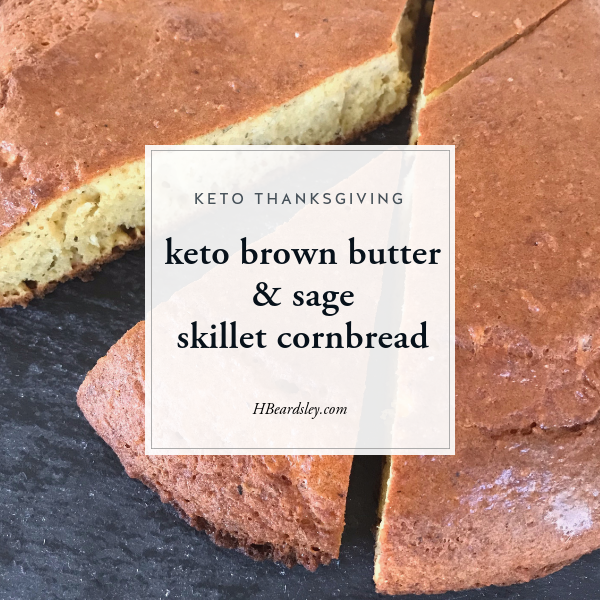 I developed this recipe to become the base for my pecan sage & sausage cornbread stuffing for my Keto Thanksgiving meal plan. But, it turned out so yummy that it's great on its own or to process finely into breadcrumbs, too. This recipe will make one round cornbread loaf baked in a 9″cast iron skillet that can be cut into 8 pie-shaped slices.
This is a great approximation to traditional cornbread, and it has a lovely corn flavor and lots of nice air pockets for texture but it doesn't pretend to taste exactly the same.  If you want the exact regular taste of carby cornbread, then you should totally make some. For the rest of us, this keto copycat recipe is a nice substitute when keeping carbs low is a priority. For each slice of my keto cornbread, you save a whopping 49 grams of carbohydrate per slice as compared to regular cornbread!
the secret to keto cornbread
Amoretti brand sweet corn flavoring is a super concentrated flavoring extract that really does bring the sweet corn flavor of summer back to keto cooking without all of the carbs. It's pricey, but keep in mind that you use very little because it's concentrated, so you'll be using it for a long time.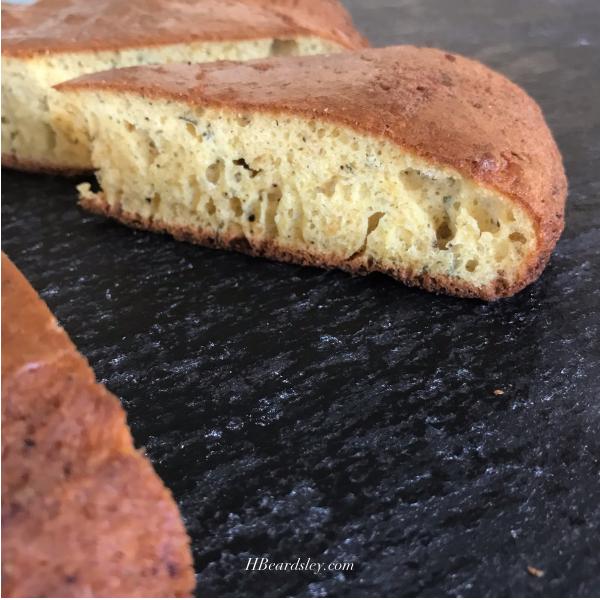 heads up – order these ahead of time!
Using Amoretti sweet corn extract & unflavored egg white protein powder is crucial to turning out a yummy keto cornbread, so be sure to order the corn extract, a 9″cast iron skillet and protein powder well in advance of making this recipe!
Every ketonian should have a 9″ cast iron pan because you'll use it to make this cornbread, yummy Dutch baby dessert & breakfast recipes, and your daily eggs & bacon on the regular. You can get a pre-seasoned Lodge skillet for about $15 that will last you a lifetime.
macro comparison
Ina Garten's corn muffins (per muffin): 326 calories, 10 g fat, 6 g protein, 52 g carbohydrates, 1 g fiber
keto brown butter sage skillet cornbread (per slice): 182 calories, 12 g fat, 13 g protein, 3 g carbohydrate, 0 g fiber
SaveSave
SaveSave
SaveSave
SaveSave
SaveSave