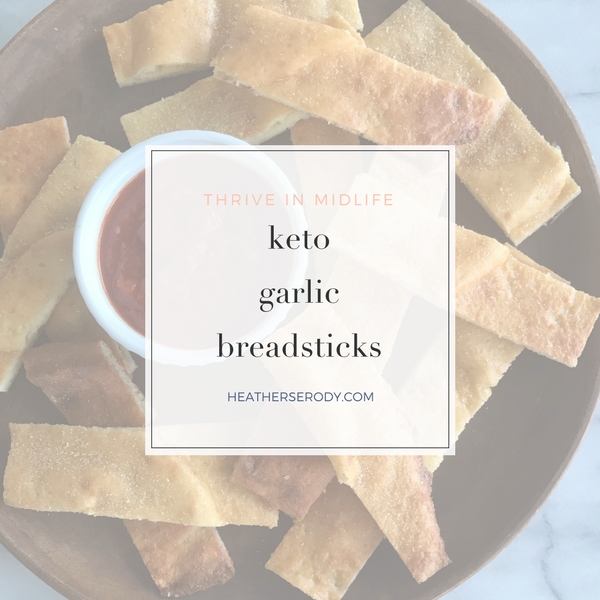 This recipe is the result of trying to make my keto bagel dough into keto crackers. The result wasn't crackers at all, but delicious breadsticks! I just spread out the dough like a rectangular pizza crust on a parchment-lined baking sheet, & sprinkled it with garlic powder. After it comes out of the oven just let it cool for a few minutes and then cut it into breadsticks with a pizza cutter.
I experimented with the basic fathead pizza dough recipe in order to create this recipe because I have always found that low-carb dough to be the closest in taste and texture to traditionally made dough. I also always try to reduce my reliance on almond flour because the carbs in almond flour quickly add up. The solution was to reduce the almond flour and combine it with pork rind breadcrumbs and grated parmesan cheese which adds a savory flavor and depth while imparting a chewy texture to the baked dough.
It's important to mention here that if you are trying to lose weight, you should stay away from consuming keto baked goods made with almond or coconut flour because even these low carb 'flours' can raise blood sugar which will obstruct weight loss. My advice is always to test your blood sugar to see if consuming almond or nut flours spike your blood sugar. If so, my advice is to enjoy these treats only while your goal is to maintain your weight.
prep tips:
You can hand-knead the dough if you don't have a food processor, just be sure to work the dough together enough that all the ingredients are well-combined. If the dough cools too much, you can reheat it in the microwave for 20-30 seconds.
To make pork rind dust yourself, place a bag of natural unflavored pork rinds into the food processor and process for about 20-30 seconds, or until it resembles the texture of fine breadcrumbs. Pork rind breadcrumbs can be stored, tightly covered in the pantry for about 2 weeks.