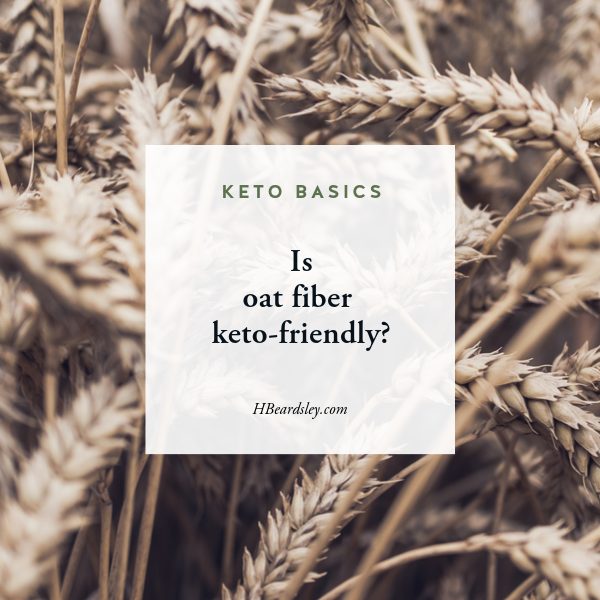 Is oat fiber keto? I got tired of feeling confused by conflicting information on this topic, so I did a ton of research for you. The short answer is YES, oat fiber is keto-friendly. In my opinion, you should consider incorporating organic oat fiber into your keto baking routine. I love the way it adds bulk to keto baking and offers a neutral taste that replicates wheat flour without adding calories or carbs!
Oat fiber is a little darker than white flour. You can purchase bleached oat fiber but don't -because they just bleach it with hydrogen peroxide. Yuck. I think we can all put our big girl pants on and deal with our baked goods looking a little browner in exchange for a cleaner product, right?
what is oat fiber?
There seems to be a lot of misconceptions and some low-carb enthusiasts freak out when they hear the word oat. So, here are the facts:
Oat fiber is NOT the same oat FLOUR

. It is

not

ground oats. It is made from the fibrous husks of the oat; not the grain. Put another way, oat fiber comes from oats which are generally classified as a grain, yes, but oat fiber is made from the outside husk or hull of the oat which is pure insoluble fiber.
Insoluble fibers like oat fiber do not dissolve in water in the body and therefore are not broken down in the digestive tract. This is why oat fiber does not contribute any nutritive benefits when eaten. This is why oat fiber has zero calories! What this means is that although oat fiber technically has 3 grams of carbohydrate in the form of fiber per teaspoon, those fibrous carbohydrates pass undigested through your body and are passed as waste; just like all other insoluble fiber in lots of other foods. Oat fiber is food like Swerve, where because of the insoluble fiber you should subtract the fiber out from the carb count if you are counting your macros.
Oat fiber's macros per teaspoon are 0 calories, 0 g fat, 3 g carbs, 3 g fiber, 0 g protein
Because oat fiber is pure insoluble fiber, it adds bulk to waste in the digestive system, which helps prevent constipation and keeps things moving.
test your tolerance
As with all foods that contain carbohydrate/fiber, you should determine whether or not oat fiber impacts your blood sugar levels if you are following a strict keto diet by testing your blood sugar about 30 minutes after consuming something you've made with it. Oat fiber should be fine to eat as long as it does not spike your blood sugar.
Also important to note is that just like any fiber, moderation is key. Too much fiber can cause gastric distress, so my advice is to experiment with it by replacing a small portion of your almond or coconut flour with it and see how you feel.
Remember that there is no one way to do keto. My advice is to do what makes you feel good in your body, while at the same time eating in a way that helps you to accomplish your goals.
In my experience, as long as you are not gluten intolerant, have Celiac disease, or leaky gut are seriously metabolically damaged organic oat fiber should not affect blood sugar for the vast majority of people.
I feel good eating oat fiber, I've been able to maintain my weight and keep my blood sugar stable while having a keto brownie treat regularly. This tells me that my body isn't negatively reacting, nor do I have gastric distress. My invitation is for you to consider some new low carb ingredient options and discover for yourself what is right for you and your body.
use high quality organic non-GMO oat fiber
I like NuNaturals brand organic oat fiber which is made in the USA from organic oats. They also use a natural chemical-free rolling process to separate the hulls from the grain. I also like that you can buy it a bulk 5 lb. size for a better price per pound.
click here to buy organic oat fiber
Ready to start baking with oat fiber? Try my
keto brownies
.
SaveSave