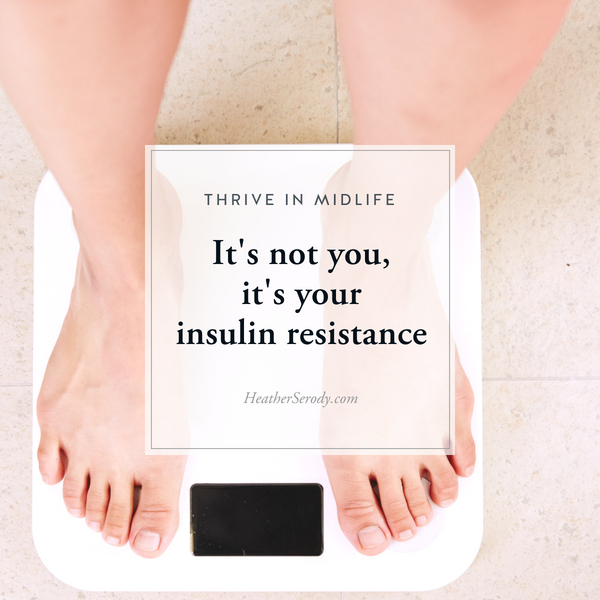 I listened to the Dear Sugar podcast called Trust Your Body the other day. It was an interesting & supportive discussion about women's struggle for body acceptance. The letter writer in this podcast is exactly like hundreds of thousands of women and men in midlife who are JUST COMPLETELY exhausted by trying to control their weight despite following conventional advice about how to lose. It's no wonder that these podcasts and the support they bring are necessary and helpful since so many of us have tried everything to lose weight and it feels not only impossible but as though the things that work for thin people just don't work for us. We don't trust our bodies, we work harder than thin people at weight control, exercise, and often wind up exasperated at best, and at worst depressed and shamed at why we can't control or maintain a weight that feels healthy and natural.
Well, guess what? If you are prone to blood sugar sensitivity, no conventional advice about how to lose weight or eat WILL EVER work for you because physiologically you are made differently.
This silent undiagnosed and unacknowledged continuum of blood sugar disorders range from subclinical insulin resistance to full-blown diabetes.
According to Dr. Mark Hyman*;
…these blood sugar spectrum disorders affects 1 in 2 Americans and is the leading cause of most chronic disease in this country, including type 2 diabetes, heart disease, stroke, dementia, and cancer, not to mention its leading role in weight gain and obesity. Despite this fact, there are no national recommendations from the government or key organizations to advise screening and treatment of it, and most doctors don't know how to properly diagnose it. The result is that 90 percent of the people who suffer…are left undiagnosed and untreated."
With the exception of Type 1 diabetes, which is congenital, blood sugar disorders tend to be the result of a long, slow process of degradation over decades which manifests as a result of eating food high in carbohydrates which makes blood sugar disorders worse over time in those who are sensitive to a diet high in carbohydrates.
With this in mind, I agree that we need body acceptance in all cases, no matter what our weight is, but I also believe that most men and women who struggle with being overweight HAVE NO IDEA that they even suffer from subclinical blood sugar disorders which are the root cause of weight gain. If the insulin resistant could recognize their condition and understand that blood sugar spectrum disorders can be reversed with a change of diet we could revolutionize the health of our nation. Doctors like Jason Fung have proven that a low-carb approach to eating and intermittent & long term fasting can reverse the progression of diabetes, insulin resistance, obesity, and other blood sugar spectrum disorders.
So, this is why I think it's more important than ever to talk about insulin resistance in order to empower those affected to understand how to heal their bodies. We need to know what exactly insulin resistance is, how to recognize it, and what to do about it. It's important because the way western medicine handles slightly elevated blood sugars (the classic symptom of impending insulin resistance and stubborn weight gain) is to tell you to wait until they go high enough to qualify you for a type 2 diabetes diagnosis. It's insane.
This is what happened to me. Back in 2016, my fasting blood sugars were regularly 130-145. I took matters into my own hands, self-diagnosed myself with insulin resistance and figured out how to heal my body by eating a low carb diet and practicing fasting.
what is insulin resistance?
Here's a simplified explanation of this complex system:
The food you eat is broken down into a simple blood sugar (glucose) that the body uses for its energy needs.

Glucose needs the hormone insulin. Insulin's job is to deliver glucose's energy to your cells.

If you're overeating or eating foods that produce more blood sugar than your cells need, you're going to wind up with a blood chemistry high in both glucose (blood sugar) AND insulin.

When you have excess glucose/insulin it triggers insulin to convert that excess glucose into fat to store the excess energy for later.
This is why high blood sugar causes insulin to store fat.
But that's not all.
Excess insulin also signals your existing fat to resist being used as fuel.
This makes sense because if your body has determined that it already has an excess of readily available blood sugar in the bloodstream to be used for fuel then there is no need to dip into fat reserves.
the signs of insulin resistance
While researching my symptoms, I identified insulin resistance as an explanation for my inability to lose weight based on these symptoms:
Feeling hungry all the time. If I wait longer than four hours to eat the hunger feels shaky and urgent.

Good energy in the morning but by the afternoon I feel lethargic. After an intense workout, I feel drained.

Periodic fuzzy and scattered thinking. Recall problems. Stumbling over my words at times.

Craving sweets after a healthy meal.

Several nights a week of poor sleep. Difficulty falling asleep.

Weight gain mostly in my midsection.
the primal body
It's helpful to remember that our bodies have survived over millions of years because of its ability to save excess fuel as fat and then lock it away to be utilized as fuel during times of famine.
So when you eat in a way that causes excess blood sugar/insulin you are signaling your body to not only get fatter but to also lock your fat reserves against being used as fuel.
"About twenty five percent of the population appears to be genetically resistant to the adverse effect of overproduction of insulin and insulin resistance. These individuals usually manage to stay very slim, no matter what they eat. But 75% of the population is not so lucky, especially during perimenopause."

— The Wisdom of Menopause p. 230
define 'lucky'
I guess when you think about it that way, those skinny people's ancestors are really lucky to have survived famine with little fat on their bodies. That's probably why there's so few of them in the world. They are an evolutionary anomaly.
Clearly, I'm not one of the lucky ones as far as that goes. I inherited genetic coding from ancestors who were genetically proficient at converting excess blood sugar to fat and then locking it away for future survival needs.
Right now, I'd survive a nice long time on my fat reserves, which would be great if we happened to be hit with a zombie apocalypse because I'd outlive those naturally skinny people for sure. But, fortunately(?), it's not the zombie apocalypse, so I've got to figure this imbalance out.
deranged hormones
When you have excess insulin in your blood it blocks the hormone leptin from working properly.
This is a big problem because leptin is the hormone that tells your brain that you are full.
Leptin is released from fat cells. It makes sense right? If you have plenty of fat reserves on your body you shouldn't be overly hungry because your body knows there is plenty of fuel on board.
The problem is that excess insulin blocks the brain from receiving the signal from leptin. The brain never gets the message that you are full.
If you feel like you're hungry all the time it's a good signal that you are dealing with chronically elevated insulin levels that are blocking leptin's 'I'm full' message. Elevated insulin will sabotage your efforts to eat less and lose weight because you will be hungry all the time.
the key is to lower insulin
You want to lower insulin in order to allow leptin to deliver its signal to the brain that you are full. When this happens you will genuinely not feel hungry.
That is a beautiful thing.
You want to lower insulin so that you stop storing excess blood sugar as fat.
You want to lower insulin so that your fat cells will open the door to be used as fuel.
You want your body to be able to dine on your own fat.
And not be hungry.
Doesn't that sound amazing?
It is.
how to lower insulin
The good news is that we can regulate insulin by controlling the types and quantity of food that we eat.
Eat food that minimizes insulin response. Stay away from any kind of concentrated food. Concentrated food is any food that has been processed from its natural form and concentrated for flavor. This includes sugar, alcohol, processed food, and any kind of refined flour. Some people even find that they have to stay away from almond and coconut flour. You guys, don't skip that part about wine consumption. Regular drinking over time can put your system into metabolic chaos. I'll post more on this later.
Eat less often. Since insulin levels go up every time you eat you want to eat less often. This will give your body a chance to experience lower insulin levels. If you are snacking all the time your insulin levels will always be slightly elevated no matter what you eat.
Eat more fat. Consuming fat does not cause glucose or insulin to rise. So, getting most of your calories from fat will allow you

to feel full for much longer and allow leptin to work. Eating fat will signal your body to use your own fat for fuel.

Eat more protein. Protein also helps you feel full for longer and it won't spike insulin as much as carbohydrates do.
Strictly limit carbohydrates. Eat carbohydrates in the form of vegetables and fruits that don't spike insulin levels. Have a look at the glycemic index to determine which ones are best for minimizing insulin response. These are vegetables that tend not to be sweet like dark leafy greens and colorful vegetables. Of all fruits, berries have a minimal impact on blood sugar.
Don't overeat. Overeating and managing desire are two really important and related topics. Let's talk about that in another post, though because I want to keep the focus here strictly on how to get fat-adapted and lower insulin. Stay tuned for more on this. I'll link here when it's posted.
could you be insulin resistant?
I knew I had insulin resistance because the following traits apply to me; which are ALL signs of unstable blood sugar:
I have always had the feeling of being shaky and hangry when I let myself get too hungry.

After my surgery to extract my wisdom

teeth

, I didn't eat for a few days and became clinically hypoglycemic – fainting in the shower, and visibly shaking if I went more than an hour without food. It seems I'm predisposed to swings in my blood sugar.

I've always preferred bread and pasta because they make me feel so much better fast -another sign of unstable blood sugars.

My sudden weight gain that appeared in my midsection without changing anything about the way I ate or exercised is a definite and obvious sign of insulin resistance.
Now that you know much much high carbohydrate foods can spike insulin & blood sugar, you can see that the Standard American diet that is full of carbohydrates will cause those with a propensity to unstable blood sugars to become insulin resistant over time. This is why even paleo or vegetarian diets that are considered 'healthy eating' can make insulin resistance worse-they can contain large amounts of carbohydrates chronically high insulin levels, which prevents fat loss.
More signs of insulin resistance are feeling tired, lethargic, and still craving something sweet even after a healthy meal. Also, there is that pesky reality that our body chemistry changes as we get older. Seventy-five percent of us lose the ability to process carbohydrates without gaining weight over time. This isn't news, people. We all know we can't eat what we used to be able to. If that is you, you could have insulin resistance.
a new perspective
Armed with this new information, you can now see things differently and you just might begin to trust your body again, once you identify that you are sensitive to blood sugar instability. You now understand WHY your friend can eat whatever she wants and stay slim: she's insulin sensitive and her weight will likely stay the same throughout her life.
The world just makes more sense when we stop expecting to get the same results from bodies that evolved, work differently, and handle blood sugar differently. The body is just an evolutionary machine that is designed to survive in the most efficient way possible based on its genetic coding.
If you want to reverse insulin resistance you'll have to override your body's evolutionary impulses to dine on glucose instead of your own fat by changing what and how often you eat. To learn how, visit the next post in this series below.