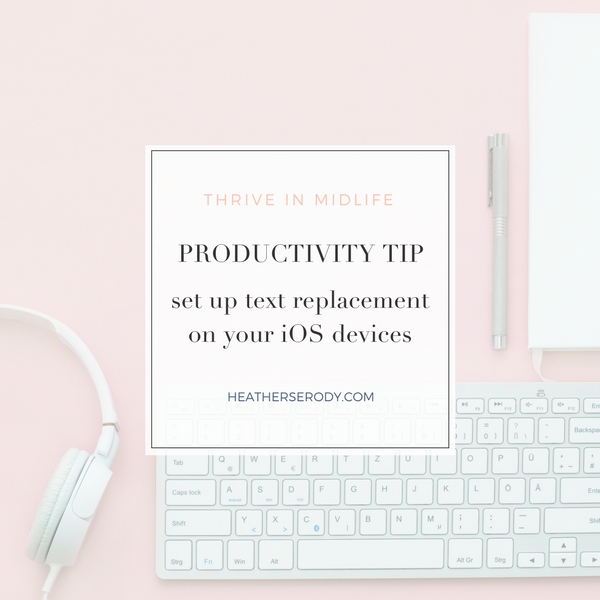 I've got a great way to save you time & sanity with this awesome productivity tip! In this post, I'll teach you how to set up text replacement on your iOS device. It's super easy & takes just 2 minutes. It will save you a ton of time and help you avoid the hassle of constantly having to type out the same things over and over again.
Text replace is great for things like business email addresses, url's, or common email responses. Or just use it to finally be able to type [fuck] without Apple changing it to 'duck' – how annoying is that? Sometimes you just need to type an f-bomb, right? Just keeping it real! So, take a few minutes right now to set up text replacement with just a few things and you can always go back and add as you think more awesome instances to use a text replacement command for!
how to set up text replacement
1. Go to settings–>general–>keyboard–>text replacement
2. Click + to add a new text replacement command
3. In the Phrase field, type in the entire phrase you'd like to create a shortcut for.
4. In the Shortcut field, type in the snippet you want to be replaced by the phrase. If it's a long string of words or sentences, just paste into the box. Make it something you will remember that isn't something you'd regularly type.
5. Tap Save at the top right.
examples
I have several groups of hashtags that I use when I post to Instagram. They are a string of 10-30 hashtags that until now, I've been storing in the notes app. After posting to Instagram, I'd have to open notes, then select and copy the right group of hashtags without of course cutting/deleting them, which has happened several times because it's easy to do! Then I'd go back to Instagram and paste the hashtags into a comment. Selecting, copying, and pasting every time I post is a total time waster, & tedious. So, I set all of my hashtag groups up as text replacement commands.
I just type 'thrive#' and all of the hashtags associated with my general posts will automatically replace 'thrive#'. If I post keto food, I just type 'keto#' and my hashtag will auto-populate.
Share this post with someone who could use this hack, and or tell me in the comments what you use text replacement for? I'd love to know. Hat tip to the @thinkcreativecollective for teaching me yet another awesome time-saving tip! You guys rock.