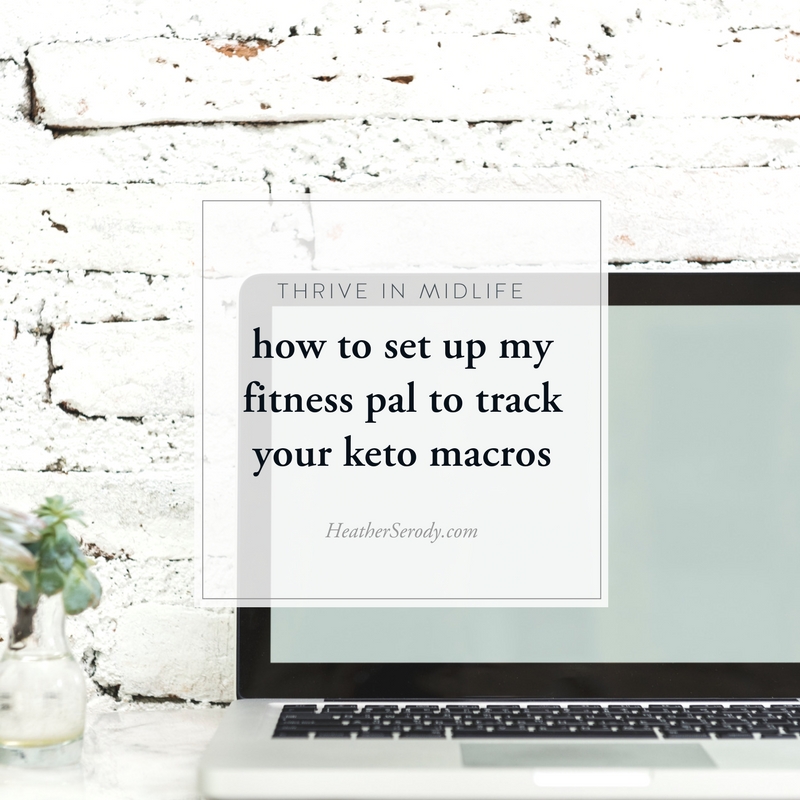 Now that you know your macros, you'll need to track and log your meals/macros in an App like My Fitness Pal (mfp). I made a quick screen recording to show you exactly where the settings are on the desktop.

*If you can't see the screen recording above, you can copy and paste the url below into a new browser window to watch: 
https://www.useloom.com/share/79459795fccd4f5e85c4d50bd988d19b
how to set up your macros in MFP
After you join My Fitness Pal, go to My home –> goals and enter in your macros for fat, protein, and carbohydrate that you got from the keto calculator I recommended from Keto Gains.
When you enter in the macros make sure that you are entering your macros in the number of grams per day, not as percentages of your daily calories. I'm gonna say that one more time, don't calculate your macros based on percentages, calculate your macros based on grams per day.
I also highly encourage you to preplan your meals ahead of time and even enter them ahead of time so that you can see exactly how your day will turn out ahead of time, which makes hitting your macros easier because you can determine ahead of time if your eating plan will hit your macros successfully or not so that you can adjust accordingly.
meal plans
If you hate counting and tracking then I suggest that you plan your meals ahead of time and/or use preplanned meal plans that have done the work for you. Even if you purchase preplanned meal plans, you will still need to be sure that the fat, calories, protein, and carbs in the plan are right for your personal macros. I periodically offer free weekly meal plans to members of my community.
meal planning guide
If you don't want to pay for meal plans, then my suggestion is to create a go-to list of keto recipes that you like and use my meal planning program to help you organize those favorite recipes, and plan, shop, and keep you on a meal prep schedule every week so that you can crush your keto goals.
click here to learn more about the meal planning program
free weekly Keto Planner ~ Meals, Exercise, & IF At-A-Glance
I created this handy free planner tool to help keep me on track with my daily goals of intermittent fasting (18-hour fasting window), my planned meals for lunch and dinner, and what my planned fasted workout activities are. Isn't that handy? This is a simple printable that you can use in conjunction with entering your macros with My Fitness Pal. It's my gift to you when you join the community.
yes, send me my free keto weekly meal planner!
what's next?
So, now that you know how to track your macros you're ready to finally start eating keto! Within 24 hours of eating keto your body will begin undergoing a number of sweeping changes, and I want you to be prepared for them to make your transition to fat burning machine as easy as possible.