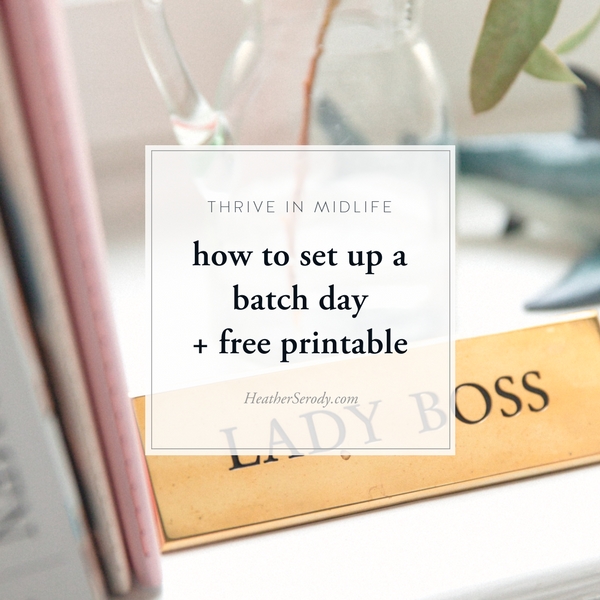 When I sat down at the close of 2017 to make my 2018 goals, one of the things that I was highly motivated to fix in the New Year, was how repetitive tasks that I didn't like to do that always seemed to pile up by the end of the year and become this big thing that would start to nag at my brain and make me feel like i was constantly behind in what needed to get done. Some examples are:
sorting through photos & deleting the bad ones or taking action on screenshots.
sorting, deleting, & filing the contents of my downloads folder
filing paperwork (insurance policies, bank statements, receipts)
household tasks: changing air filters, ironing, taking clothes to the cleaners, straightening up my closet
financial tasks: filling in expenses & income sheets for both my businesses
I knew I needed to set aside an entire work day to tend to these recurring tasks, which would then give me peace of mind. I knew by getting these things done monthly it would make me more productive by being able to find things easier because I'd be more organized while working.
what is a batch day?
A batch day is a day that you set aside to work on specific tasks—anything from cooking, cleaning, technology, financials, social media, errands, doctor visits, goal setting, or any combination of these with no other work scheduled. By batching similar tasks together you can streamline the time it takes to get these tasks done.
I have a friend who schedules all of her doctor's visits at the beginning of the year and gets them all done in one day. She takes a personal day off work to get this done. She likes it because she feels it saves her time and the periodic hassle of interrupting her work days.
The key to making batch days work for you is to take some time to think about
what you want to batch
how often you want to batch
create a recurring date that you will commit to getting your batch tasks done
how to structure your batch day to work for you
STEP ONE: Create a quick list of all of the tasks that you feel would save you time to batch on a specific day & time on some scratch paper.
STEP TWO: Analyze your list and think about what tasks work together at one day/time.
For instance, if your goal is to batch cook and freeze some meals for the month ahead you may want to set aside the last Sunday of the month to do that. That would also allow you to meal plan for the month ahead since you know what meals you have made and frozen ahead of time.
If you have other housework, organizing, tasks, you can batch that separately at a different time of the month—whenever makes sense for you. Think ahead about what will be required to get your tasks done: do you need quiet? An empty house? Weekday or weekend? Do you need certain supplies?
One of my tasks is entering my income and expenses for my business. I use my bank & credit card statements for this, so I schedule my batch day to happen every month after I've received both of these from my bank. 
STEP THREE: Fill in your completed batch day checklist and post it somewhere conspicuous so that when the batch day comes around, you know exactly what to do.I've created a FREE printable batch day checklist for you as a printable PDF which is free for subscribers.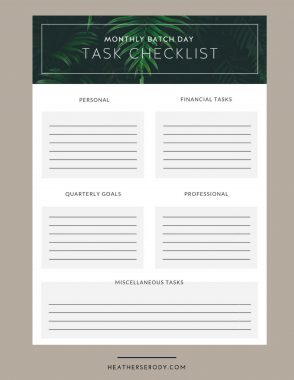 To get your free instant download, fill out the form below.
STEP FOUR: Be realistic about how much time you'll need to accomplish your tasks because you want to set yourself up for success by being able to complete everything. Pick a recurring day and time to dedicate to the batch tasks. Add your batch day(s)  to your calendar as a recurring event. I always put mine on my Trello calendar.
STEP FIVE: Honor the calendar. Some people have no problem getting things done that they have planned ahead of time. Let's be honest though, batch days are kinda tedious and boring and I sometimes struggle to want to tackle my batch day when it rolls around. I've got some tips for you below, but if you are an inner rebel to your own desire to get shit done, you need to perfect the skill of honoring the calendar or you will forever be working against your own best interests. For more on honoring the calendar, click here.
executing batch days successfully—tips & tricks
Make it fun: The key to beginning and being motivated to finish your batch day is to positively associate fun and motivating activities with your batch activities. I can't stand ironing, but I love to listen to my podcasts and drink coffee, so I put them together.  The podcasts & drinking coffee makes the ironing feel more pleasurable. In this way make your dreaded tasks more pleasurable by doing errands while sipping your favorite coffee at Starbucks, do housework in comfy clothes. Even just lighting a candle can set a more positive atmosphere.
Schedule breaks & compete against yourself: I like to set a goal for how long my batch task will take and then I compete to see if I can beat that time. This keeps me focused on working quickly through tedious tasks like filing receipts that I can't stand to do. It works because I'm highly motivated to finish as fast as possible. Decide ahead of time when you'll take breaks. When I'm completing batch tasks at the computer, I like to set my focus app for twenty-minute mini-productivity sessions. After every session, I get a five-minute break to get up and stretch. Setting your phone on do not disturb or airplane mode also helps tremendously to minimize distractions.
Reward yourself:  I always attach a reward to completing my batch day checklist – a reflexology massage. I don't have to make an appointment ahead of time for this, so I just jump in the car and go when I've completed my batch day, even if that's the next day.
I'd love to know how your batch day checklist is working for you. Leave me a comment below or over on Instagram.