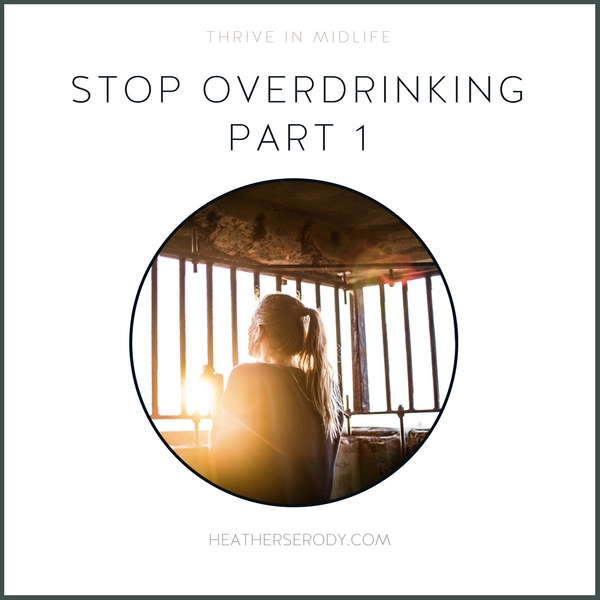 This conversation is for you if you find yourself drinking more than you want to.
Of course, overdrinking is a very common occurrence when we first start to drink. A few hangovers later, we learn limits and settle into a sweet spot with alcohol – we know how much to drink in order to enjoy ourselves but don't drink so much that it negatively affects our lives. We have a pretty easy relationship with drinking. This is the premise under which most of us begin our relationship with alcohol and we falsely think that it will be this way for life.
the problem
So when you do decide that your relationship with alcohol is problematic?
What one person thinks is a problem is another person's goal to strive for. In that context, I'd like to say that I'm not talking in terms of absolutes, but I'm rather talking to you as an individual and what is specifically right for you and only you can decide what those answers are. I'm not a doctor, nor am I addressing alcoholism, which is a full-blown addiction that involves compulsive drinking to excess.
What I want to talk about is overdrinking, a place where you find yourself drinking more than you want to. Overdrinking can be a precursor to alcoholism, or it can never turn into alcoholism. Overdrinking is where you have a desire to drink less and are finding it challenging but not impossible to correct your behavior.
What I want to address is the very subtle shift to overdependence on alcohol that often happens in midlife where we suddenly find ourselves drinking more than we planned to, or more often than we used to, despite our intention not to. What's going on in the brain is the key to how to sort-circuit this habit.
Overdrinking is much like finding yourself dealing with unexplained weight gain in midlife, it is an uncomfortable place to find yourself in, and it's often accompanied by a lot of self-judgment and secret shame.
Just like most women in midlife don't understand that unexplained weight gain in midlife is most often due to an inability to handle carbohydrates like you could when you were younger, overdrinking is often a symptom of the pleasure/reward mechanisms in the brain becoming overly imprinted over time.
Once you understand what's been happening in your brain over your decades-long relationship with alcohol, you can start taking effective action to work around how your brain works in order to manipulate your pleasure/reward system to reset your drinking to an amount you feel more comfortable drinking again, or to stop altogether if that's your desire, too.
my story
Overdrinking is what happens when you start missing the sweet spot with alcohol. It's a problem in that you are desiring one behavior and yet doing another. This is called cognitive dissonance, and it's a miserable place to be.
This is where I found myself when I began to realize that I was overdrinking. It began well over ten years ago while raising my kids when I began buying wine to drink at home. Wine helped me to relax after a stressful day with the kids and sort of numbed out my loneliness when my traveling husband was away.
Of course, I didn't think about it that way at the time. I didn't have an issue with it all until I found myself not sleeping very well on nights that I'd have wine. Plus, growing up with an alcoholic father meant that I was highly sensitive to any excess. I was very careful to never drink to get drunk. I rarely if ever drank so much that I was ever hung over, but still…I noticed that there was a mounting desire for the feel-good relief that a glass of Pinot Grigio brought to me as a frazzled and stressed mom of two young boys trying to do it all. I didn't like it, and I began to not want to want that glass of wine.
So, I decided that I wouldn't drink during the week anymore. I spent over ten years asking myself to not drink during the week. Although most of the time I was successful, I always felt like I was failing on the mornings when I would wake up and see the empty glass of wine in the sink, even if I'd had just one glass the night before. Why was it so hard to just leave it? I am an incredibly disciplined person. I blamed myself for years. Disappointing myself consistently over a long period of time began to chip away at my positive self-regard and the idea that I could do anything I set my mind to.
I also see now that between the time I was 35-45 that when extremely stressful events happened I'd lean more on drinking for relief. Whether I was lost in grief, was having relationship problems, coping with crushing worry over a family member's cancer diagnosis, and that incredibly stressful moving process were all instances where I would find myself drinking more than I wanted to; and then I'd have to mightily struggle to dial back my drinking to an acceptable place. I needed insight and some tools to help me, but all there was was AA, and I knew I wasn't an alcoholic. I was something in between, but I didn't know what.
overcoming overdrinking
All of this ebb and flow was the beginning of my overdrinking. But, frankly, I didn't consider it to be a very big deal, until a couple of years ago when I was doing my vision board and decided that my one big goal was to stop drinking as much; which was now a glass or two of wine 5-7 days a week. I knew it was holding me back from living a full life. I knew that 5-14 glasses of wine a week was unsustainable and too much of a burden on my liver. I also knew that my drinking was keeping me stuck in complacency with other aspects of my relationship with myself and my relationships.
what's behind overdrinking
When I created my vision board at the end of 2016, I realized that my primary desire was to stop overdrinking. I went into research mode. My goal was to cut down to about half or less of what I was currently drinking. I did some research and figured out that you have to understand how alcohol affects your brain & habitual behaviors before you can be successful overcoming overdrinking.
the pleasure/reinforcement mechanism
The key to overcoming overdrinking is to understand how all pleasurable actions are reinforced in the brain. Remember that the brain's purpose is to keep us alive. All of your descendants through countless generations have managed to stay alive by avoiding pain and pursuing pleasures like food and sex. It's almost like Mother Nature knew how stupid humans can be, so she downloaded a mechanism whereby we couldn't help but remember and be drawn back to the habits that give us pleasure. It's why we have taste buds on our teeth, so we remember to eat. It's why we have orgasms so we remember to procreate.
Think about it. Lol.
Every time we do something pleasurable we are rewarded with a surge of the feel-good neurotransmitters serotonin and dopamine. When that happens the memory pathway that led to this action is strengthened. We remember more vividly exactly what we have to do to make this pleasurable thing happen again.
It's how the Alaskan bear remembers to come back to the exact fishing spot year after year after he has an epic salmon fishing day. It's why my kids forget almost everything except they seem to remember very clearly where I hid the Oreos. Reward (pleasure) reinforces that behavior.
Why do we like alcohol?
Like sex, food, and Oreos, every time we drink alcohol (it is, after all, a pure source of fuel) we are rewarded with a surge of serotonin & dopamine. We feel good after we drink it, and that habit is further strengthened in our memory and our sensory recall.
This is what's happening in the brain when we think of drinking around the same time every day. It's the familiar look of the late day sun or the sight and smell of cooking dinner or hearing Lester Holt's voice on the Nightly News that recalls the memory "Let's have a glass of wine, it will be great!" If we answer that primal pleasure memory by pouring a glass of wine; boom! we have strengthened that habit even further.
As long as its pleasurable, that habit gets rewarded. The brain's only job is to avoid pain and pursue pleasure. In order to overcome overdrinking, you have to find a way to extinguish this pleasure/reinforcement mechanism as it relates to drinking.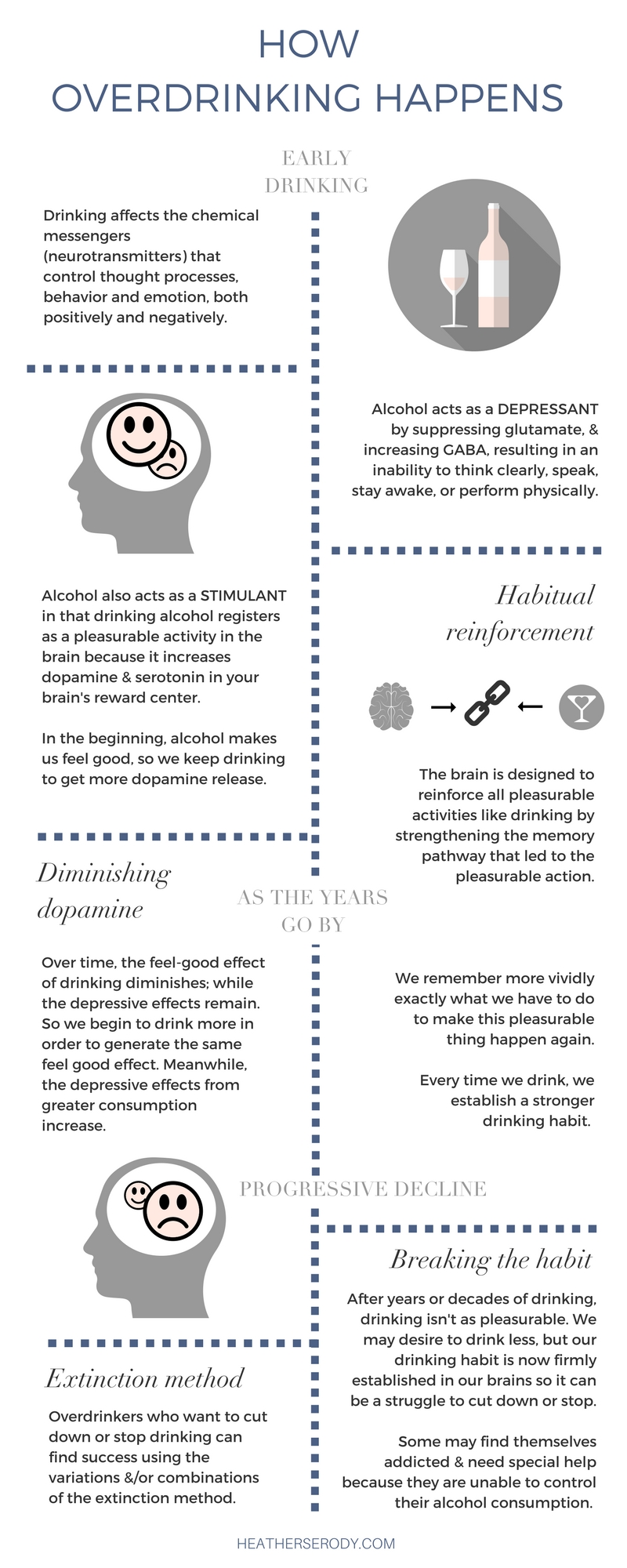 my overcoming
So, after I made my vision board I knew that just trying to cut down wasn't enough, I knew I'd have to short-circuit the pleasure/reward mechanism that alcohol creates in the brain. I read several books about alcohol and stopping drinking. I took a course. I experimented with myself and tried a bunch of things. After all that I've learned, I think the best news is something that I hope has already happened for you reading this-you now know that if you are overdrinking that it is absolutely not your fault, or a character flaw or anything to be ashamed of. Mother Nature hardwired us to become attached to pleasure. But, she also gave us another gift; your ability to make deliberate decisions ahead of time so that you can short circuit this pleasure/reinforcement mechanism as it pertains to overdrinking.
methods to help you overcome overdrinking
I'll discuss a few methods that I've personally used to overcome my overdrinking. There are of course more methods, but the scope of this discussion will include these:
The Extinction Method – Any number of strategies to weaken an undesired behavior by removing the reward. Inludes abstaining, drink planning, & pharmacological extinction.
Pharmacological extinction – An extinction method in which a non-habit forming and FDA approved low dose of Naltrexone is used to block the pleasure response to alcohol & therefore weaken the habit.
Abstain altogether – An extinction method in which you do not drink even when you desire to do so. For some personalities, it is easier to just stop drinking altogether than to grapple with the complexities and long-term process of reducing the habit of overdrinking. If you want to cut down on your drinking while still drinking you will be abstaining a least some of the time. The more abstaining you do, the faster the habit of overdrinking will be weakened.
All of the extinction methods have positive and negatives associated with their application to overdrinking. The best one for you is the one that fits best with your current drinking behavior, outlook toward restriction, and personality. I'll be addressing the pros and cons of each method, my experience using each one, and I'll tell you exactly what to do to get started over the next two parts in this series.
click here to read part II: The Extinction Method
*disclosure

This discussion is framed for over-drinkers who want to cut back on their overdrinking habit. Please note that this discussion is not intended for chronic abusers of alcohol who compulsively consume. I am not a doctor, I simply am offering tips and tricks that I've used in my own experience in reducing my overdrinking. If you are having a difficult time with urges during abstinence, or are having difficulty sticking to your drink planning after a few weeks, then I encourage you to talk to your doctor or therapist for medical support.
SaveSave
SaveSave
SaveSave