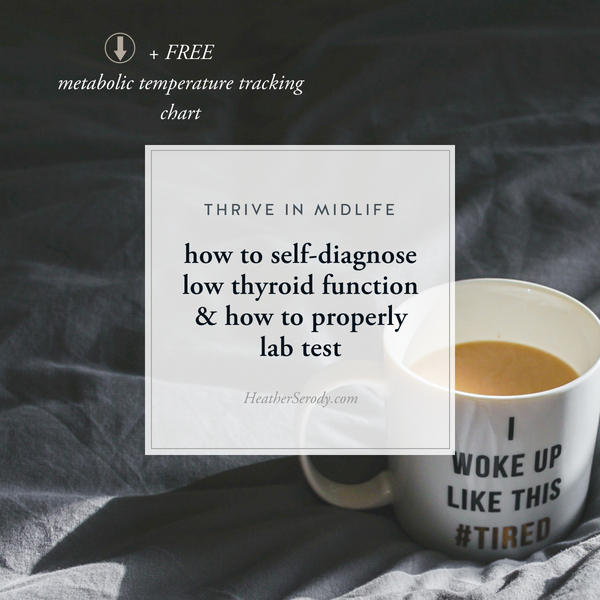 You can figure out yourself at home very easily if you have low thyroid. If you discover that you do have suboptimal thyroid function is critical to understand how that can negatively affect all of the other systems in your body and have negative health consequences. Too often primary care doctors pick a few thyroid lab tests and tell us our levels are 'fine.' women are notorious for not even knowing what tests were run or what the lab results said. That has to stop if you're going to take charge of your health. There is an epidemic of undiagnosed and untreated subclinical thyroid function in America the result of which is that millions of us go through unnecessary years, decades or a lifetime of feeling awful, lethargic, overweight, and depressed. The good news is that with just a bit of effort you can work with a doctor to optimize your thyroid. When that happens, it's like life goes back to Technicolor from black and white. When you feel your brain working again and your body generating adequate energy you can't believe how good it feels to feel good again. Here's what to do if you suspect that your thyroid isn't working right, & what to do about it.
1. Temperature test first
Take your temperature to determine whether or not you may be hypothyroid (low thyroid function) – find out all the details here. I created a temperature tracking chart for you to download.
join the community to download your FREE thyroid temperature tracking chart
Tracking your temperature is the best way to know if you are hypothyroid. If your temperature is low AND you have symptoms of hypothyroid (also discussed in that same post here) THEN you need to go to your doctor, discuss your symptoms with them and have your thyroid properly tested.
2. Test correctly
Testing your thyroid should at a minimum include these EXACT tests. You will have to state this exactly to your doctor. If your doctor says these tests are not necessary then your doctor doesn't understand how to accurately diagnose & treat thyroid dysfunction according to the most modern standard of care. If your doctor won't test these then find another doctor who works with these tests, because he won't be able to treat you effectively.
TSH
Free T3
Free T4
Reverse T3
TPO ab (Thyroid Peroxidase Antibody test) – tests for Hashimoto's
Tgab (Thyroglobulin Antibody test) – tests for Hashimoto's (you need both)
3. Treat based on symptoms and lab results
When you have your lab tests back you will need to interpret the results first based on your symptoms, NOT JUST LAB RESULTS. See symptom list here or just google 'hypothyroid symptoms'. Remember that lab ranges are set by the laboratory companies and further, they are not based on optimizing thyroid levels but instead reflect ranges based on disease. For instance, patients often report lab results for TSH falling within the lab range for but they present classic hypothyroid symptoms. There is a lot of controversy as to what the actual range should be and what 'normal' is. But this shouldn't surprise you if you remember that our health care is dispensed by a health care industry whose motive is to maximize profits and minimize benefits. So you and your doctor are charged with applying how you feel to the corresponding lab results and making a determination as to how to start treating you.
4. Natural Desiccated Thyroid medication is best
If you and your doctor decide (based on your symptoms and your lab results) to start you on thyroid medication, according to thousands of patient testimonies, natural desiccated thyroid hormone (NDT) seem to work best and offer a full spectrum of thyroid hormones to help you feel better. Synthetic thyroid medication (Armor or Synthroid) which are a highly profitable pharmaceutical product, only offers one thyroid hormone (T4), which is inactive. This synthetic thyroid medication relies on your body to convert the inactive T4 into the active T3 form. Some patients have trouble converting and will have problems, so according to patients, natural desiccated thyroid (NDT) medication like Naturethroid is best. If your doctor says NDT is unreliable, unstable, dangerous, unregulated, or harmful, then you know you are working with an uninformed and possibly biased doctor. Keep in mind that the pharmaceutical industry is in direct competition with natural thyroid alternatives. Pharmaceutical representatives have a reputation of trying to influence doctors against using NDT.
5. Increase NDT at 2-week intervals until optimized
One of the biggest mistakes that doctors make when treating hypothyroid patients is to leave them on a suboptimal dose. The recommendation of STTM website, which is an accumulation of thousands of hypothyroid patient experiences; is to begin with one grain of NDT for two weeks, then raise the dose by 1/2 grain for another two weeks and continuing to raise until the following conditions are met:
A consistent mid-afternoon temperature of 98.6ºF.
The complete or near complete elimination of hypothyroid symptoms.
A free T3 lab results toward the top 1/4 of the range no matter how low TSH goes.
most patients report feeling optimized between 2-3 grains of NDT, according to the STTM book.
6. Learn what optimal lab results are when you're on NDT and be able to translate lab results YOURSELF.
Being on NDT will affect your thyroid lab results in significant ways. You will need to educate yourself about those expected changes. For instance, TSH plummets while on NDT, so you and your doctor should expect to see that lab result change after you are put on NDT. These are other changes too – too many for me to go into in this post, but suffice it to say that the biggest mistake patients make after going on NDT is to rely completely on their doctor to interpret what the lab results mean. Being on the lab range is definitely not the same as being optimized. If you are still feeling hypo symptoms then work with your doctor to optimize. Track temperature, report symptoms, and learn how to read your results HERE.
There is much to learn. I know it's complicated, I know it's confusing, and I know that you might feel overwhelmed, but you are in the right place and I've just given you an outline of how to proceed, step-by-step. Don't indulge yourself in confusion; that's the fastest way to stay stuck feeling like crap. You CAN do this and you need to take charge because no one cares about your health more than YOU do. For more information, I highly recommend the Stop The Thyroid Madness book and website, and also this book. I've given you the bare bones structure to follow, but there is no way that you can navigate this issue unless you make it your own responsibility to best your own best healthcare advocate. Leave me a comment below and let me know how you are doing in your thyroid journey.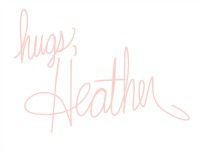 SaveSave
SaveSave