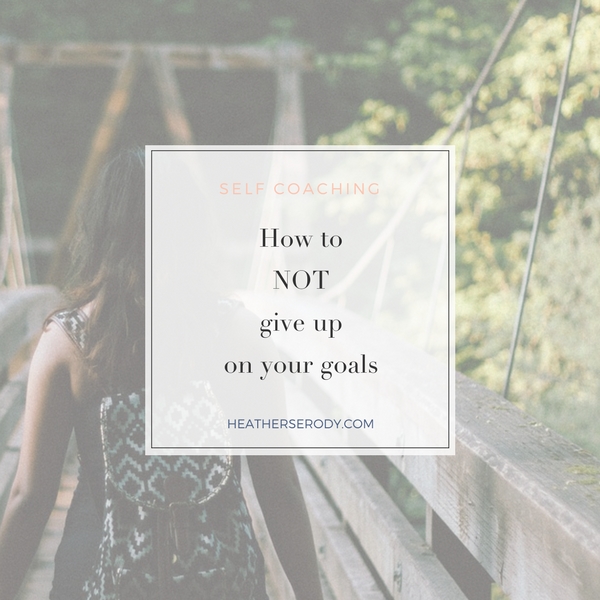 how to not give up
Recently, a friend got in touch with me and confided in me that she's considering giving up on her goals. Things are really hard for her right now. She's caught in a web of negative thinking and she just can't see a way out. Self-defeating thinking always leads to self-sabotage so I want to encourage you to coach yourself past it. I've got a few tricks that I've used to combat that desire to give up. Let's take a closer look at what's really going on when this happens.
you're only human
When things don't work out and it seemingly does for everyone else, it feels personal. When you put in the work and yet the results you're looking for still elude you it's frustrating and demoralizing. Add in some shitty luck, bad choices, or chronic health issues and multiply that over time and one day you wake up feeling like you have ashes in your throat.
In midlife, those disappointments and challenges and losses start adding up. It's easy to think that you have a limit to how much you can actually take. I think eventually everyone says,
"I want to give up."
The funny thing is, when I've gotten to that point, I also wanted to not give up more than ever. It's just that I couldn't see the solution or the answer and I was tired of struggling. I've accumulated a few tricks and strategies over the years that how the power to completely change how you feel and can help you press on.
1. stop trying to find answers (for now)
The first thing you have to do in order to not give up on yourself is to just stop trying to find the answers or solutions that evade you. Instead, ask yourself if you really want to be someone who gives up on herself. Pull the camera back on the movie of your life, and recognize that struggle is part of the journey. By pushing through and not giving up, not only will you be able to reach your goal, but you'll get better at struggling next time.
2. Think of resilient people who inspire you to keep going
When I'm on the struggle bus I like to think about my grandmother who lived to be 99. She was born to Hungarian immigrants, learned two languages, and had to quit school in the 4th grade after her mother died in order to take care of her siblings. She was widowed in midlife and worked until she was in her 80's. She outlived all of her family and friends. I think of how many funerals she went to. How many unrealized dreams she might have had for herself. Yet I always remember her quiet dignity and acts of loving kindness – baking and knitting for everyone she loved. She inspires me to realize that good life can be lived from within the struggles. She inspires me to continually to dig deep and become that kind of resilient person that she showed me is possible.
3. what if you are supposed to do hard things?
Last year I asked my own life coach how I could get past my own pervasive thoughts of why are things always so hard for me? I really, honestly felt like it was a fair question. There were and continue to be realities in my life that lots of people admit are hard. Even if it's true, I found myself not wanting to be the girl who struggles.
And there it is.
The problem with not wanting things to be how they are is that there is no way out of reality as it is. My coach asked me to consider whether my purpose here on Earth is to do hard things. It blew my mind. If I accept my life as it is then it is much more peaceful to me to accept my struggles and believe that I am meant to do hard things. It kinda makes me feel a sense of pride and purpose where before I was just resisting everything.
When you believe you were meant to do hard things, then the resistance melts away and everything becomes easier.
4. decide
What can help you bounce back when you want to give up? How can you get inspired to pull yourself back into the arena of your life? Is it your kids? Is it that you don't want to be a quitter? Is it that you refuse to be a victim? Are you doing it to be an example for your kids? If you can't think of anything then just think of the alternative. The truth is that everyone who perseveres against obstacles ALL decided at some point, probably in their darkest moment, that they will not give up on themselves. Take the possibility of deciding to give up out of the equation and then you can spend more energy on the solution.
5. make meaning from your struggle
Viktor Frankel wrote about his experience in the Holocaust as a psychiatrist in his book Man's Search For Meaning. In it, he recalls observing that the Holocaust prisoners who were able to make their experience in the concentration camps mean something more than their despair were the ones who lived. Pain is our greatest teacher if you can make it mean something about who you are and why you're here. Creating that personal narrative for yourself can carry you through a long life that inevitably involves bitter disappointments and yet those disappointments can still allow you to create purpose from your life regardless of the outcome.
This is why I believe that you are not allowed to give up on yourself.
Okay, maybe just for one rainy Saturday in the good company of Netflix, but don't linger there too long. Life isn't about the end result you're looking for, it's about figuring out who you are through the struggle and learning how to show up for yourself over and over again.
6. Cultivate an awareness that your unconscious thoughts are dirty little liars
So we learn resilience and we make meaning of our challenges. We get inspired to pull ourselves off the couch and dust the Cheetos crumbs off our shirts, but when the mind realizes that we still have the same problems to contend with you have to remember that your mind might try to play dirty with you.
the nature of the ego-mind
The ego mind's only job is to keep its human alive. Therefore our minds are hardwired to hate not knowing, change, and unclear outcomes. Yet, when you decide to not give up on yourself that is exactly what you are doing. Your ego mind would always rather have you safely on the couch binge-watching Scandal, safely giving up on your goals than to persist in fighting battles with dubious outcomes.
Since your ego mind hates not knowing, it might try to tell you a very convincing story that YOU are the problem. The thought looks like this:
I have this problem because there's something wrong with me.
When this happens please remember that the ego mind doesn't care if this crushes you soul or makes sense in some devastating way. Don't buy into it. This is just the ego-mind trying to explain the unexplainable. It happens all the time. Humans have a perverse need to explain shit like:
fate
bankrupt Powerball winners
dark matter
why you can't lose those last five pounds
Spend a few minutes contemplating the answers to these mysteries and just watch your mind go bat-shit crazy. Self-shaming is just a glitch in the machine, my dear. there is absolutely nothing wrong with you. You can do hard things. Recognize unconscious thoughts for what they are, and learn to overcome by managing your mind, and choosing better thoughts.
7. Actively manage your mind
Thankfully we come hard-wired with a pre-frontal cortex part our brains. The prefrontal cortex is the part of your brain that can do advanced planning and is blessedly unattached to those primitive survival impulses like the ego is. Train your prefrontal cortex correctly, and you can harness the power to override your anxious ego-mind. To do this you simply take control and decide ahead of time that from now on and forevermore you will not accept any self-shaming. Remind your ego-mind over and over again that this human life is messy, fateful, and oftentimes unexplainable. Tell your ego-mind that it is okay to not know why you have challenges and to not know why you can't overcome them right now. You are an incredibly resilient and luminous soul who can sit in discomfort and know that it will not destroy you. That's how to get back into the driver's seat of your brain and your life.
I think of my grandmother when I land in a place of wanting to give up and I recognize the universal truth that we all become more and more like the greatest version of ourselves every time we choose to manage our minds and not to give up on ourselves, our dreams, and our goals.
In case, you're in that dark place, I want you to know that you can totally do this. I believe in you and your capacity for resilience, your ability to take greater meaning from your gravest challenges, and I promise that getting back into the messy arena of your life is the most direct route to the best version of you.
Please share this post with a friend who might need a little support right now.
SaveSave