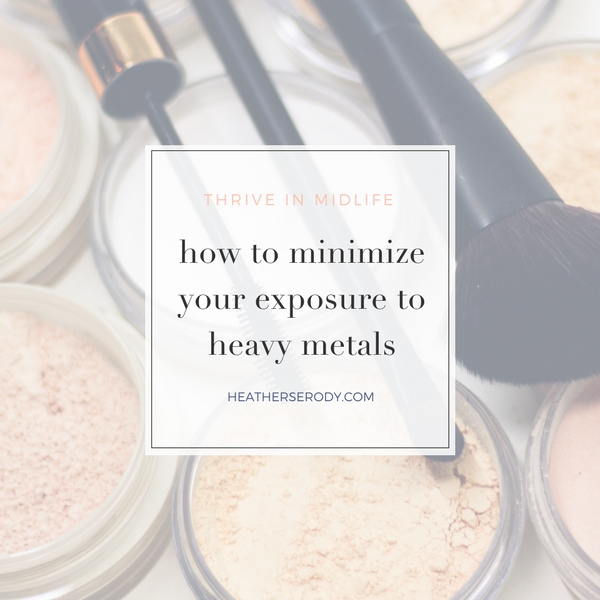 Looking back, I'm grateful for the health scare I had in my early 40's because it made me vigilant & proactive about what I allow on my skin, the food I eat, & what I breathe in my lungs. There are several practices and habits that you, too can put into place to minimize your exposure to heavy metals and toxins, too.
how to minimize your exposure to heavy metals
1. filter your tap water
Get a reverse osmosis water purifier to take out toxins and heavy metals from your drinking water.
2. filter your shower water
Detox your shower by installing a screw-in shower filter to filter out the chlorine which is much more toxic when inhaled as steam.
3. use safe & nontoxic beauty & makeup products
The biggest concern for safety in makeup is heavy metal contamination in lipstick, powders, & lip glosses because of how we ingest and inhale small amounts of them when we use them or our children or partners come into contact with us. Here's what you can do to minimize your exposure:
1. Install the Environmental Watch Group's Healthy Living App on your smartphone which has a database of more than 128,000 beauty & food items that are rated for safety. You scan the barcode to get a quick assessment of safety so you can make better choices.
2. Use Beautycounter skincare & makeup products. Beautycounter is a direct retail beauty & make-up products company committed to a health and safety standard that goes well beyond what's required by U.S. law. Beautycounter has banned the use of more than 1,500 questionable or harmful chemicals through their "Never List" while demanding product performance on par with as any other high-end conventional beauty or make-up product in the market. I was so impressed by their mission and product performance that I have partnered up with them as a consultant/affiliate.
click here to shop Beautycounter
I encourage you to start thinking about making the switch to safer cosmetics as you run out of products. About 80% of my beauty products & 90% of my makeup now consist of Beautycounter products. I truly enjoy using them for their performance and peace of mind knowing that I am using safe products.
3. Look for cosmetics made in the U.S. from mineral pigments mined in the U.S. which has less toxic contaminated soils than China & stricter laws concerning pollution.
4. Look for products with an Ecocert certification. This certification means the pigments used have no synthetic additives and abide by European regulations that have heavy metals thresholds for 12 heavy metals, not just the 3 that are restricted by the FDA.
5. When applying powder makeup, it's best to hold your breath when applying or exhale when applying so that you do not inhale them.
Also, never allow your child to play with conventional makeups or lipsticks, especially because they do not understand that swallowing it can expose them to toxins. If you are wearing conventional lipstick or makeup do not allow a baby to touch your face because they will put their fingers in their mouth and ingest your makeup. Do not kiss the faces of babies or children if you're wearing lipstick, especially if it is conventional lipstick. The best thing to do to avoid these exposures for yourself and your children is to is to wear clean & safe makeup.
You can find out more about why clean beauty products matter, how to know if you have heavy metal toxicity, what to do about it, and the worst 13 toxic ingredients to watch out for in the products you buy by visiting the clean beauty resources page that houses all of the resources in one place.