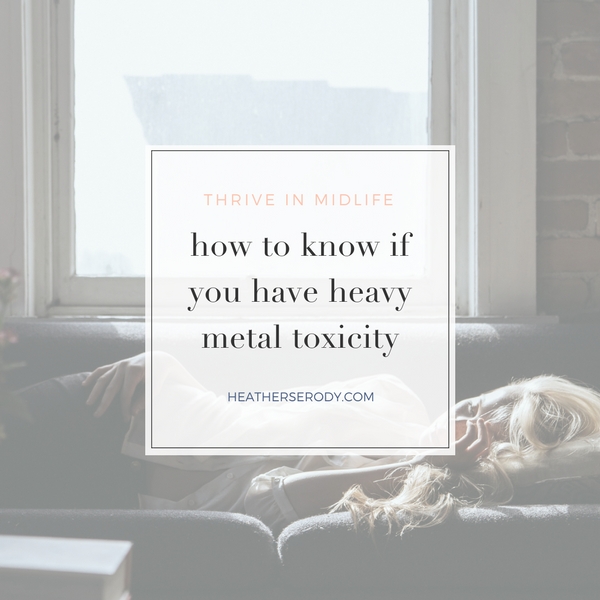 As you might already know, I'm a passionate advocate for the clean beauty movement. My desire to empower women to make safer choices for themselves when buying cosmetics stems from own experience with heavy metal toxicity that still affects me today and probably will for the rest of my life.
I'll tell you my story here to spread awareness of the very real dangers of environmental toxicity and to empower you to know how to determine if you have & test for heavy metal toxicity. In a separate post, I'll give you some guidelines for how to detox; from DIY methods to protocols that you'll need to be under a doctor's supervision for.
my story
When I was 41, I went through an especially heightened period of chronically high stress from moving twice, dealing with family members who were sick, a husband who traveled extensively (6+ months/year), and having my beloved German Shepherd die. Shortly after Thanksgiving at the age 40, I found myself in the middle of a health crisis. My hormones & adrenals totally crashed.
This is what it felt like to be in my body:
I felt brittle. When a sudden noise startled me, I would feel the adrenaline course through me like a cannon; it was like my nerve endings were completely raw.
I hadn't had a period in over 4 months.
I was riddled with constant hot flashes that alternated with extreme coldness & shivering.
Due to the constant wild temperature swings, I was completely unable to sleep.
My hair was also falling out.
I felt like my emotions were closing down and I was just going through the motions of life.
I struggled to find words and was stammering all the time. Brain fog.
In stressful moments like getting the kids out the door to school, I felt completely unable to cope.
Basically, I was desperate for healing and willing to do anything to feel better. Thankfully, I found a naturopath/functional medicine doctor who helped me in many ways. The first thing he did was to prescribe me bioidentical progesterone and estrogen creams. Within 4 days of rubbing these all-natural creams on my skin, I felt my vitality returning and my hot flashes start to decrease.
After that healing experience, I could no longer deny that ANY product that is applied to the skin becomes absorbed directly into the bloodstream and affects the body's chemisty, for better or worse.
The second thing my doctor did was have me take a urine heavy metals provocation test. I questioned the necessity of this. But I'm so glad he explained why he thought it was necessary in light of the symptoms I was having. When the results came back, I was shocked to see that I had not only high levels of mercury, but I also had 3 times the lead of the average person, and higher than expected levels of boron, and the most toxic heavy metal of all – cadmium.
how heavy metals affect your health
Toxic heavy metals like mercury, lead, & cadmium interferes with normal cellular function by binding to protein receptors, which blocks needed metals from participating in the function of the mitochondria, or cellular engine. As a result, the cells cannot effectively produce ATP or energy and fatigue occurs.
'…23 heavy metals are commonly found in the environment and diet. In small amounts, they are required for maintaining good health but in larger amounts, they can become toxic or dangerous. Heavy metal toxicity can lower energy levels and damage the functioning of the brain, lungs, kidney, liver, blood composition and other important organs. Long-term exposure can lead to gradually progressing physical, muscular, and neurological degenerative processes that imitate diseases such as multiple sclerosis, Parkinson's disease, Alzheimer's disease and muscular dystrophy. Repeated long-term exposure of some metals and their compounds may even cause cancer. (Jarup, 2003).
the solution
Experts like my doctor thankfully knew that there is a link between toxic metal accumulation in the body and health problems like I was having: hormonal imbalance, amenorrhea (lack of a period), hypothyroid disease, fatigue, adrenal fatigue, & joint pain.
He knew that the bioidentical hormone therapy could help me feel better, but until I fixed the root problems like stress management and my heavy metal toxicity that I would not be able to fully heal; and I would continue to have lingering health issues.
subtle signs of heavy metal toxicity include:
aching joints
extreme fatigue
mood swings
unexplained weight gain
headaches
skin rashes
gastric distress
severe PMS
amenorrhea
PCOS
premature menopause or hot flashes
excessive sweating
inability to sleep
symptoms that mimic neurological disorders like MS, Parkinson's, & Alzheimer's diseases.
If you are having outlier health issues that don't make sense like I was, I would encourage you to talk to your doctor about having a full hormone panel done, including full thyroid panel, and testing for heavy metals toxicity.
how did I get heavy metal toxicity?
Finding out you have heavy metal toxicity can make you crazy trying to figure out how it happened. It's kind of like trying to figure out who gave you a cold. You have some suspected culprits, but you can never be totally sure.
Having high cadmium usually points to being exposed to some environmental pollution in the soil. When my doctor told me that, I knew that it probably happened when I was in high school when our well water got poisoned with home heating oil. Our neighbor who lived up the hill behind our house was having their heating oil filled and the guy fell asleep waiting for it to finish. The heating oil overflowed and sprayed all over their house and driveway.
In a moment of breathtaking stupidity, the neighbors chose to clean up the mess with high powered water hoses and who know what degreaser chemicals; driving the home heating oil down into the ground, where it took a few weeks to leach down the hill and reach our well-which provided the water we drank, cooked, and bathed in.
I remember showering and all of the sudden feeling like I was showering in gasoline. It was a nightmare scenario that lasted for over 3 years until our town was able to bring the city water line to our house. In the meantime, we had to survive with all of our water needs coming from gallons of water that sat on our porch in boxes stacked 10 high and 10 across, frozen solid in the winter season.
Who knows how much home heating oil & chemicals I ingested or were absorbed through my skin?
Smoking exposes you to cadmium, too, and I was a smoker for ten years. Unfortunately, cadmium bioaccumulates in the body and is very difficult to remove with typical detox protocols. It's something that I'll have to live with for the rest of my life.
other ways you can get exposed to heavy metals
lead: auto exhaust, root canals, building materials, water, & some tea from China
mercury: seafood, dental fillings, vaccines,

contact lens solution

cadmium: cigarettes, batteries, hydrogenated oils, coffee, exposure to contaminated soil
arsenic: In 2010 88% of all chickens raised for human consumption in the U.S. were given arsenic-based drugs to promote growth, treat disease and improve meat pigmentation. So eating conventionally raised chicken & eggs exposes you to arsenic. Another reason to buy organic & pastured chicken/eggs.
aluminum: deodorant, cookware, vaccines
thallium: added to gasoline
bismuth: added to make up for pearlescent shine, & medicine
testing for heavy metals
pre and post-provocation tests
pre/post-provocation urine tests involve taking a pill that contains a heavy metals mobilizer agent to 'mobilize' the heavy metals that lodge themselves deep in the brain, organs, and bones. The body then has a chance to excrete them through the urine. You collect your urine for usually 24 hours after taking the mobilizing agent, then send it off to the lab. The lab then tests the levels of mobilized heavy metals.
In my case, I took the provocation test first. Then I had my heavy metal detox treatment. Then I repeated the provocation test to see whether the provocation levels of heavy metals decreased.
you should know that there is some controversy over whether provoked urine tests results can be misleading due to differences in how these tests are used, the timing of collections, and other differences in interpretations.
hair mineral analysis test
Hair mineral analysis is a toxicology screen for metals including uranium, lead, mercury, cadmium, arsenic, aluminum, and nickel. You send in a hair sample cut close to the scalp to the lab. Hair testing is considered to be a reliable indicator of toxicity and is helpful in monitoring detoxification progress, but it too has its limitations in how the results are read and the ability of the lab to accurately test the hair.
from diagnosis to treatment
The most important thing to understand is that we ALL have exposure to heavy metals, the question is how much, and is it negatively affecting your health?
My advice is to determine whether heavy metal toxicity might be an issue for you based on your symptoms. Do some research and then talk to your doctor. If your doctor isn't open to your concerns about heavy metal toxicity my advice is to find another doctor. Try searching for a functional medicine doctor in your area.
In the next post, I'll tell you about the methods available for detoxifying heavy metals, from DIY home remedies to doctor prescribed protocols.
click here read how to detox heavy metals from your body