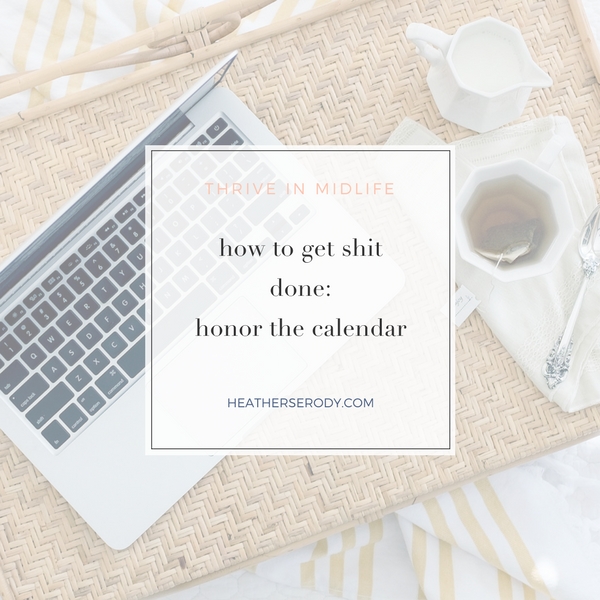 the Jedi mind trick: honor the calendar
I don't know anyone who can just 'wing it' day after day and still shop, cook, eat, workout, remember appointments, and make time for personal goals in a week – especially if you have kids & their schedules to accommodate, too. Throw social media and endless internet distractions in there and you've got a 21st-century lifestyle that conspires against you getting anything done.
If you want to accomplish some longer-term goals, then you'll have to learn the secret Jedi mind trick to getting shit done. You'll have to develop the habit of using your prefrontal cortex – the long-term planning, logical, and rational part of your brain – to regularly schedule the tasks that need attention every single week. If you don't the limbic part of your brain-the part that acts impulsively and according to present-time urges and pleasures-WILL take over and before you realize it you've binge watched 3 seasons of Game of Thrones and never left the house all weekend.
Of course, it's not just about writing shit down. Hell, we all write shit down but only a few rock stars regularly succeed in regularly crossing it all off the list. What are the doers doing that the list makers are not?
They're honoring the calendar.
They used their prefrontal cortex to decide ahead of time that they will honor and do whatever goes on the list or calendar or agenda. Sitting down every week, compiling an intentional schedule, and writing it down is the only way to deliberately acres the pre-frontal cortex and override the limbic propensity to chase proverbial squirrels. Applying some dedication to planning and obeying your calendar WILL result in a more rewarding sense of satisfaction and sense of self-actualization than passively watching Game of Thrones can ever give you. Here's how to do it:
action step: get a planner
You'll need to use some kind of planner system (electronic &/or physical) to keep all of the foundational working parts of your week accounted for and can also allow you look at the big picture goals that are meaningful to you so that you can stay focused on what matters. This frees up your brain from having to try to remember everything so that you can be more productive and get shit done. The amount of energy your brain saves by not having to try to remember everything is huge. Using a planner is a foundational part of my Big Life program. Use an electronic or paper version depending on what serves you and the way you work best. But either way, don't waste time waffling in a place of confusion about it. Decide, get your planner set up, and start using it right away.
tip 1: I am using Laura Casey's Powersheets goal planner for 2018 for both my personal and business goals this year. This isn't an everyday planner, it's just for mapping out your year and focusing on how to make those goals happen.
After spending about a week going through the exercises in the planner I've hatched about 8 super exciting goals that truly matter to me that cover both of my businesses, my family, & myself. I feel really clear about what I can accomplish this year and exactly what and when I need to do to get it done. Having goals that are personally meaningful makes goal crushing something you actually want to do, which makes the work of meeting those goals so much easier. I can't recommend it enough.
Click here to check out the Powersheets Planner
tip 2: The second tool I'm recommending is a digital organizational tool called Trello. Trello is a like on online Pinterest Board for organizing your weekly schedule, business, family, and just about anything else in one place. It's touted as a project management software, but it works beautifully even if you're just using it for yourself and your family. The best part is that it's FREE.
Trello brings your goals to life in a visually beautiful way. Each board is designed to break down your goals into tasks & checklists that have due dates. You can collaborate with others right on your boards. Trello is always available to you anywhere you go on your smartphone and you can access it from any computer through the web.
Don't waste any more time finding links, documents, and attachments that live all over the place.
Want to learn more? Click here to check out Trello. If you really want to geek out and take a class on how to best use Trello for your creative business & get some predesigned Trello boards I highly recommend taking the Trello for Business Class that Think Creative Collective offers for $30.
I hope both of these resources might help you crush your goals for 2018 with a bit more ease and have some fun in the process.
schedule a day and time to schedule
Before I got into the habit of using Trello consistently I would get the Sunday Blues. All day long my mind would turn to the week ahead – wondering what I needed to do, or anxiously inserting thoughts about when I'd get this or that done. It's wasn't so much a depressive feeling as a slightly anxious one. The worst! Which is why I now plan for the week ahead BEFORE I finish work on Friday afternoon, so my brain and I can relax for the entire weekend knowing that everything I need to remember to do is safely recorded in Trello & waiting for me Monday morning. I don't have to think I just have to DO what's already there.
tip: Choose whatever day and time works for you, but schedule a time schedule that will tend to always be available so that you can be consistent and build your habit until it becomes ingrained.
obey the calendar
You can calendar your week and it won't amount to anything if you don't simultaneously develop the skill of obeying the calendar. This means that you decide ahead of time to honor the commitments that you put into your calendar. Again – you can see here that you are tapping into the power of your pre-frontal cortex to make shit happen. Each time you decide ahead of time to do what you've already decided to do ahead of time, it builds self-confidence and a feeling of self-empowerment.
tip: Don't sabotage your efforts by overwhelming your calendar. Love yourself enough to think proactively and logically just how much you can and are able to do before you write it your planner. On the flip side; also hold those commitments you've decided on ahead of time as sacred. Meet each obligation as if it was an appointment with the CEO of your company; which is true because you're the CEO of you.
resistance
A lot of my clients balk at the calendaring habit. They complain that they feel too restricted; like their time isn't their own anymore. If you honestly question the efficacy of the calendaring habit & the practice of honoring the calendar then go ahead and try implementing an active and healthy lifestyle along with your work and family commitments AND your long-term personal goals and assess how effective that is. My guess if that if you're even reading this post, that hasn't worked for you so don't kid yourself. Even if you could white-knuckle it through your week without using your planner, your brain will be so fried from trying to remember everything that you certainly won't benefit from the peace of mind that using a planner can give you.
unexpected benefits
Meeting your commitments to yourself will, over time, begin to nurture a new and powerfully deep and trusting relationship with yourself. There is no better way to learn to depend on yourself and foster a sense of self-efficacy than to keep your promises to your higher self. Honoring the calendar will empower you to move beyond the spin cycle of 21st century day life and begin to work toward those long-term goals that you've always wanted for yourself.
SaveSave
SaveSave
SaveSave
SaveSave