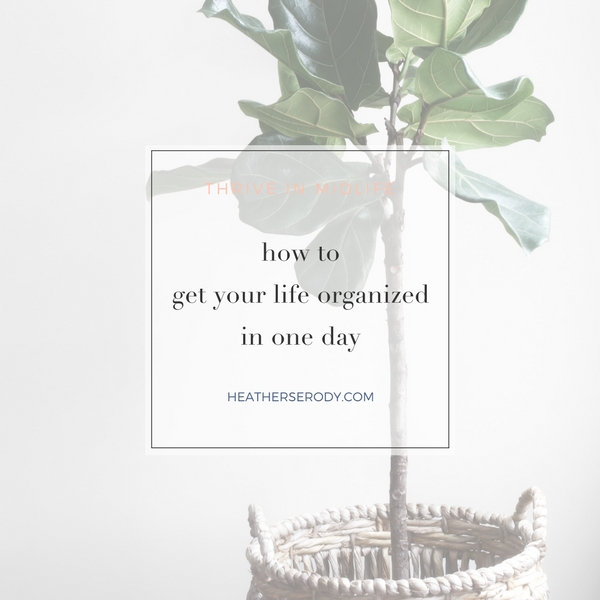 You can eat well and work out regularly, but if your home, workspace, and calendar are an unorganized mess, then your healthy lifestyle foundation is shaky at best. you can totally get organized in one day, but you need to both tidy up AND create systems to stay organized the same day. Dedicate a day to getting organized and you'll be amazed how much time you have freed up for your daily goals – like cooking yummy low carb food and getting in your daily workout. In this post, I'll teach you my method for getting organized in one day.
how to get organized in one day
Step 1: (20 minutes)
IN-BASKET EVERYTHING
Grab a basket. You might need a laundry basket. Whatever. Walk through your home room by room and put everything in that needs to be put away or needs your time or attention. If you can touch it, and it needs your attention, put it in! It's really that simple. You are creating one space for everything to be processed. If you have a lot of items that belong to your kids and they are able to put their own things away, then get inboxes for each of them, too. Don't panic about how big your inbox is getting. This is temporary! Ready? Set the timer. You've got 20 minutes – go!
If you're anything like me, your questioning the sanity of doing this because you need about 5 big baskets to hold everything and you're feeling very overwhelmed. Maybe your monkey mind is screeching that is is stupid and I-have-no-time-for-this-insanity, or this will never work! Don't fret. Stay with me; I promise you, we've got this. This is a system that works but you'll need to do a few things before you dive into that inbox to make processing it easier:
Step 2: (10- 20 minutes)
GET A LEGAL PAD OR USE THE REMINDERS APP ON YOUR PHONE TO CREATE CATEGORY REMINDER LISTS.
As you process your inbox you will record the various reminders you come across or that pop into your mind. This captures the information and frees your brain space. Below are the main categories I use. Add or adapt to fit your needs. Don't spend more than 20 minutes on this or you'll lose momentum. Not using an iPhone? Other good reminder apps can be found here.
Today
Calls
Grocery list
To do at home
To Do on computer
Errands
Honey-do list
Big Projects
Step 3: (5 minutes)
SET UP A PENDING FOLDER
When you process items in your inbox, you will find certain things need to be put in a holding area, because you need to wait for something else to happen first. For instance, you have a doctor's bill, but you need to wait for the insurance to review the claim before paying this bill. Don't leave this bill in your inbox, because you've already processed it. Instead, create a Pending Folder. I use a Pendaflex folder with 10 pockets and an elastic cord that keeps papers from falling out. Right now I have my kid's school photos in there because I'm waiting to purchase the right frames to put them in. I put "buy 2 5×7 frames on my errands list in my reminders app. Use a file folder or another basket as a temporary pending folder for today's clean up until you can get a permanent pending file.
Step 4: (1-4 hours+)
PROCESS YOUR IN-BASKET
Have some lunch, maybe some more caffeine, clear a space, and give yourself the afternoon to complete this crucial step.
Suggestion: Put hubby on cooking and laundry duty while you are processing your giant inbox so you are not interrupted.
1. First, get rid of as much easy stuff from your inbox as possible first, like farming out items from your inbox that actually belong in your kid's inbox or husband's inbox that are theirs to put away. Put away everything else that needs to go back to its place next. For everything else, if it takes more than 5-10 minutes for you to decide, schedule, call, look up, order, discuss, or pay it then schedule it to be finished at a later in your calendar or reminders list/app. Place any paperwork to those scheduled items in your pending file.
2. If you have a lot of receipts, place them into a file to 'be filed'. Then write down "File" onto your to-do reminder list or place it ion the calendar to be done at a specific later date. Don't let little things take up too much of your time while processing your inbox. Remember the goal is to have an empty inbox and comprehensive lists of things to do. Have your family process their inboxes, too. Once your inbox is empty it's time to have a little celebration or reward; you deserve it.
Congratulations, you've taken control of clutter in just one day. Rockstar! You have a lot still on your 'to do' lists in the coming days, and don't forget to follow-up on items in your pending folder, but if you stick with this system who knows what you'll accomplish this year?
reference
This kick-ass prescription for getting organized in one day is based on the Getting Things Done from Getting Things Done: The Art of Stress-Free Productivity
by David Allen. I highly recommend it in paper version to keep on the shelf and revisit when things get messy.
SaveSave
SaveSave