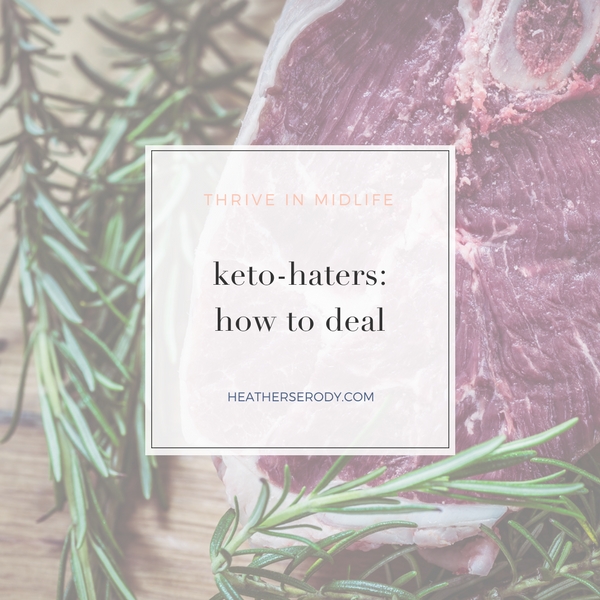 how to deal with keto hate
Last week a friend tagged me to weigh in as a keto expert on Facebook post that read,
"Just curious: paleo vs. keto Go!"
There were a lot of varied responses, but it was just one woman who very quickly hijacked the conversation with some anti-keto false propaganda. Here are just a few examples of the blatantly false things she claimed about keto:
keto is a medical definition of starving
if you eat keto you will suffer from malnutrition
weight loss is fast [on keto] and the heart muscle will suffer
keto causes unregulated blood sugar
…and finally, my favorite:
I would not be surprised if we learn about elevated cancers in children …[breastfed from mothers who eat keto.]
Are you as stunned as I am? The fear-mongering and lies are outrageous, yes, but I want you to know it's out there and that this is a real thing happening. I want you to understand what's really going on here so that you are prepared and can respond without feeling confused, doubt yourself, or doubt keto.
naysayers always have an agenda
I initially assumed that this woman was just confused, so I attempted to give her the facts & science so that she could come to understand and see all of the benefits and inherent value of what a ketogenic diet can do for those who need it to stay healthy.
Wrong.
Most people, if they don't understand keto or they have questions will respond with an air of benign curiosity, even if it doesn't personally appeal to them. However, unreasonable, adamant, and uninformed responses usually indicate a hidden agenda at play, and in my experience, that agenda is usually an extreme fringe veganism or vegetarianism one.
why?
Because keto works so well for weight loss and healing, the keto way of eating is exploding in popularity. As a result, people are starting to wake up and realize that the way that we have been told to eat for decades (eat the majority of your calories from refined carbohydrates & sugar) makes us fat and sick. The extreme vegan and vegetarian interests feel threatened by this (perhaps because keto prescribes eating a moderate amount of protein) and a few very noisy & aggressive fringe proponents are using fear tactics and twisting the science to suit their agenda; which is to scare people away from eating keto/low-carb/paleo.
Think about it; for a while now vegetarianism and veganism as a way of eating have enjoyed being the darling of weight loss and the paradigm of 'eating healthy,' but even this paradigm is being questioned today. A pervasive myth is that vegetables have the highest concentrations of vitamins and minerals, which for the most part is false.
Surprised? See the chart below.
"Here's a quick chart that compares the major vitamins and minerals in plant-based foods versus animal-based foods. The servings sizes are the same weight, as in 8 ounces of broccoli or chickpeas is being compared to 8 ounces of meat, fish or poultry. No fair counting cereals or milk because these are artificially fortified. We are comparing real foods here, not processed foods. Okay so take a look… hmm, looks like most of the vitamins and minerals are in the animal-based foods. (Comparison made from these tables.) And something else to keep in mind…grains, vegetables, and soybeans (soybeans seemed to be the vegetable-based food that drove the plant winner rows above) are high in many anti-nutrients that bind and remove minerals from the body. In the rows above in which soybeans won the day, be aware that there is some loss of minerals (calcium and magnesium) because of the phytic acid and lectins in these foods. These seem to be one of the lesser-known facts about vitamins and soy, given the huge market for soy products in the US." *excerpt taken from HERE.
I tried vegetarianism & veganism (twice) and found that I not only gained weight, but that I always had gas pains in the afternoons, which indicates my body just wasn't happy with all those veggies, massive spikes in my blood sugar, brain fog, hypoglycemic episodes, and a constant need to eat every few hours. Keto cleared all of that up for me and I've never felt better.
In this modern age, we are no longer sheep to be told from some authority figure what is the right and wrong way to eat. Nor do I believe for one second that collectively we are too stressed or dumb to be able to safely handle eating low carb, which is what this woman on Facebook was shrieking about over and over again.
What an insult to our intelligence.
In the digital age, the responsibility is on the individual to figure out what our bodies need and how to intuitively eat in a way that makes us feel energized and healthy from the inside out.
Keto, (nor should any other way of eating) be a proselytizing endeavor.
This concerted anti-keto smear campaign is really a shame because the paleo & keto movement, for the most part, has educated and encouraged Americans to demand grass-fed, organically fed, and ethically raised animals more than any other eating style to date. This has led to more availability of these kinds of meat, a change in the industry and ultimately a decrease in the amount of factory-farmed and mass processed animals which is always a good thing. Keto is not anti-vegetarian. You can successfully eat a vegetarian keto diet. Also, keto is a moderate protein diet, in that you should only eat as much protein as you need to spare your lean mass and no more.
tips on how to respond to misinformation & fear-mongers
The Ketogenic Diet Resource is a wonderful source of solid research and science regarding the ketogenic diet written by author Ellen Davis who has a masters degree in clinical nutrition. The graphic above came from her site. She has a whole section of her site dedicated to keto diet myths that you can turn to in to help you dispel any misinformation you might run across in your world. I recommend bookmarking the following pages:
My advice? Don't let the naysayers with agendas make you feel as though eating keto is anything but an effective and healing tool used to achieve a sense of well being and vibrant health that is right for YOU. Comment below if you've seen keto-hate and let me know how you have dealt with it.
ready to begin?
I have created comprehensive paid keto programs for those readers who just want to get started and not waste time making mistakes or trying to learn all the parts of keto yourself. The first program is a 7 Day Keto Jumpstart program. This program is great for the keto beginner or keto-curious who want to tip their toes into the keto lifestyle and see how they respond to the low-carb lifestyle for a week. The second program is a comprehensive 30 Day Keto Transformation Program. This program gives you everything you need to learn keto for life and tweak it according to your goals and your lifestyle.
free stuff
When you sign up for my email list, you get instant access to the subscriber Resource Library which holds all of the free guide, checklists, cheatsheets, and PDF's that I create for my awesome community. These include guides on how to calculate your macros, digital fasting and meal planners, simple keto meal ideas for breakfast & dinner, The Guide to Thrive, and much more!
sign me up
coaching
Schedule a coaching session with me if you are looking for one on one support.