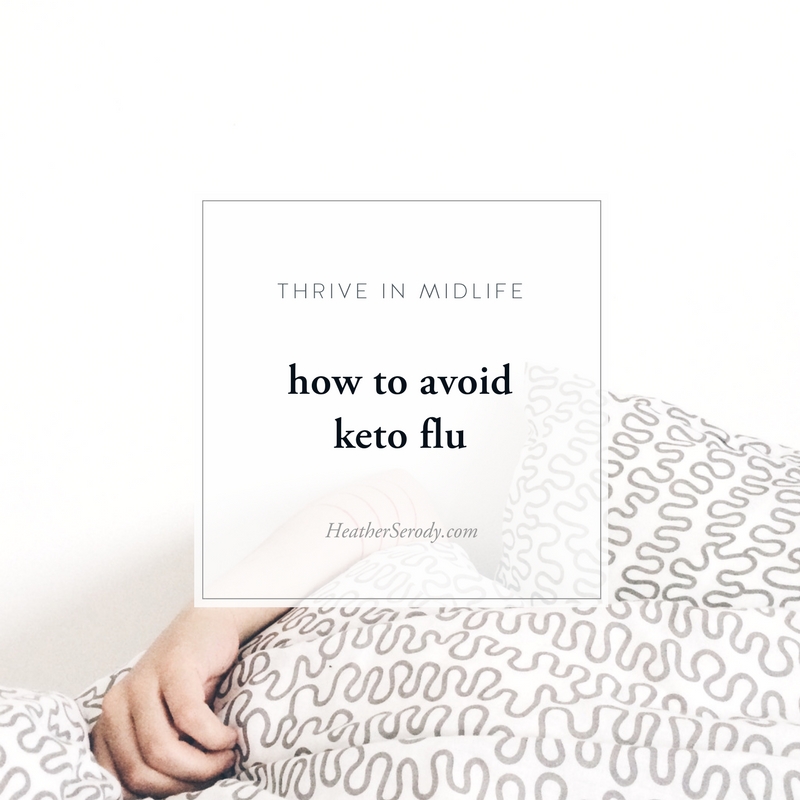 Within 24 hours of starting a ketogenic (low carb, high fat) diet I began to feel dizzy, my heart was racing, and I felt weak and spacey. I did some research and I figured out pretty quickly that this is a very common response to switching over to a very low carb way of eating. My symptoms indicated that I had what's called 'Keto Flu.' I'm going to tell you how to avoid keto flu so you don't have to suffer needlessly.
what's happening
What happens during the switch to eating low carb is that your energy production centers in your cells are in the process have to change over their 'machinery' to adapt to this change in fuel. These changes can take two weeks up to a month to complete. Another thing that happens is that your insulin levels go really low, and this causes you to lose lots of water weight, which causes your sodium and electrolytes get depleted too. It's the depletion of sodium & electrolytes that are responsible for the vast majority of yucky keto flu symptoms, which is actually really great news because that means you can minimize the vast majority of keto flu symptoms if you know what to do.
Keto flu is the number one reason why most people abandon a ketogenic or low carb diet, not understanding that:
It's temporary
It's avoidable if you supplement with sodium & electrolytes
I get asked all the time how to deal with keto flu, and my answer is to scale back your exercise for two weeks in order to give your cells time to adapt to the lack of carbohydrates and increase your sodium & electrolyte intake. If you eat low carb you must understand that you will have an increased needs for sodium and magnesium, especially in the first two weeks of adapting to a keto diet.
the truth about salt requirements in general
In the 80's & 90's all of the health recommendations were to cut back on salt consumption, but now we are learning that too little salt can shift the body into semi-starvation mode and can cause insulin resistance (1) and cravings for sugar. This happens because low sodium levels have essentially the same effect as eating a high sugar diet – low salt causes higher levels of insulin which causes us to gain weight (!)
Also, without adequate salt, the water & nutrients cannot get into the cells of our body, our cells cannot properly transmit nerve signals, and our bodies lose the ability to contract muscle cells, which in turn affects proper digestion, heart function, and even breathing.
So we now know that we should salt our food to taste and not restrict salt unless you have a specific health concern and your doctor has advised you not to. However, there are additional sodium requirements for those of us who eat whole food based low carb diet, exercise a lot, & or drink coffee because they all cause sodium depletion.
specific considerations
Eating low-carb causes low levels of sodium for a few reasons. Blood glucose helps the absorption of sodium in the gut. Since low carb diets cause very low blood glucose levels, that means that low-carbers aren't absorbing salt as well as those who eat a traditional diet. Secondly, those who are in ketosis (fat burning mode) will also lose sodium because when you're in ketosis you have low insulin levels which trigger the kidneys to flush sodium. Low-carb eaters do not hold as much water in the body and can, therefore, become dehydrated more quickly which causes loss of sodium and potassium. Lastly, those who eat whole food based low carb diet do not get sodium through processed foods, so they must make up for that by supplementing.
Coffee The caffeine contained in coffee has diuretic properties that cause you to not only lose water but sodium and other minerals, too. Drinking 4 cups of coffee a day can deplete the body of up to a full teaspoon of salt in just 4 hours.
Exercising obviously causes sodium depletion through sweating. Exercising hard daily, especially in hot weather can quickly dehydrate and deplete your sodium and iodine levels. You can lose 50-100 mg of iodine per hour of exercise! Iodine depletion is related to weight gain and hypothyroidism.
keto flu is mostly related to sodium depletion
so now you know that switching over to a low carb or keto diet causes sodium depletion which can trigger really yucky symptoms like dehydration, increased heart rate, sweating, and heart palpitations, muscle spasms, and lightheadedness and a feeling of spaciness that are all mostly due to salt deficiency. These symptoms are often referred to as 'Keto Flu.' Knowing that you will lose sodium when you begin a low carb diet, or especially if you also exercise a lot and drink coffee, can really help you minimize keto flu and keep you feeling your best.
so how much salt should you be eating?
According to low carb expert Dr. Phinney:
For the first week of a ketogenic diet, people seem to need about 5 grams (5000 mg) or about 2 teaspoons of salt per day to counteract the sodium deficiency that occurs.
In the second week eating low carb, that goes down to about 4 grams (4,000 mg) or about 1 & 3/4 teaspoons per day.
Thereafter, and so long as you eat low carb, the daily requirement is about 3 grams (3,000 mg) or 1 & 1/3 teaspoons per day.
warding off keto flu
My advice based on my own experience is to set aside take half the recommended daily amount of salt in a small container and leave it out and keep it with you all day. Throughout the day, add small pinches to your water or just place small amounts under your tongue to dissolve every few hours. The idea is that you keep in mind that the other half of your daily salt requirement means that you are liberally salting the food that you're eating throughout the day in an amount approximately equal to the other half.
Another thing I've learned to do is throw a few coarse granules of salt into my morning coffee. It sounds awful but trust me it really brings out the flavor (just as salt does to everything you put it on) and I like knowing that it counteracts the salt depletion that caffeine causes.
So, for example in the first week of keto, keep 1 tsp. set aside to salt your water &/or put under your tongue & use another whole teaspoon on your food that day. See how you feel. If you're still having symptoms increase the amount and see how that helps.
Drinking Keto Lemonade (see below) is a great way to keep your sodium levels up while eating keto. You can add electrolyte drops to your water or Keto Lemonade to help replenish electrolytes lost with sodium. When I want to snack on something salty I love to eat toasted dried seaweed snacks because they have lots sodium and are a natural source of iodine which is another essential element that gets depleted with exercise and sodium loss. In addition, I always recommend taking 400 mg of magnesium glycinate which helps with muscle cramping. This form of magnesium will not affect your bowels.
One of the most effective things you can do is to expect that you won't have the energy you're used to having for about two weeks from switching to keto. Remember that this is temporary! Don't stress out your body by placing excessive physical demands on it because it's already trying to make vast and systemic cellular changes in the first 1-2 weeks of adopting a keto diet. When I switched to keto I didn't work out for a month. In fact, I did no exercise for two weeks at all. During week 3 and 4 I just walked for an hour a day. After a month I was feeling energetic again and resumed all my former activities.
I can't stress enough that you should supplement sodium based on how you feel. If you're craving something salty, don't fight it, it means your body needs salt! Salt your food to your liking. I often also find that if I'm feeling a vague sense of hunger when I think I shouldn't be hungry, I'll put some salt under my tongue and my hunger goes away. If I feel a little dizzy I know it means that I need more salt. I personally drink 4-6 20 oz. glasses of keto lemonade daily to keep my sodium and electrolytes in balance.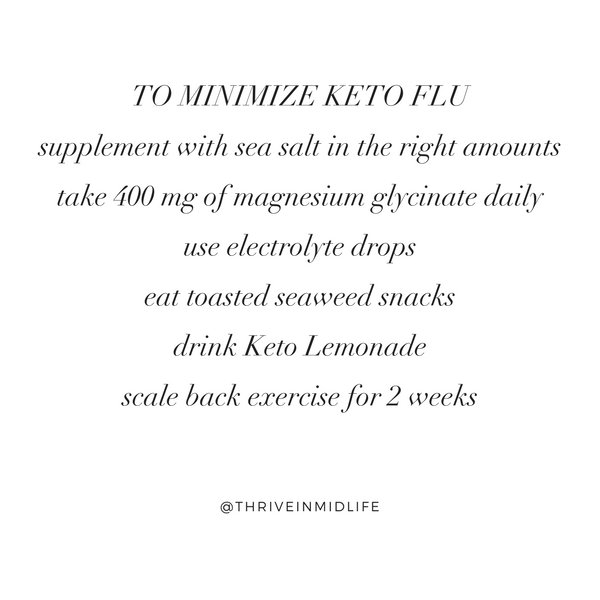 what kind of salt is best?
The best kinds of salt are harvested by hand and minimally processed, do not contain anti-caking agents, bleaching agents, or additives. Here are my favorite salts that I use in descending order:
Redmond Real Salt is mined from central Utah from an ancient seabed. It's unrefined and free of pollutants. It contains numerous trace minerals which give it its pink color including calcium, potassium, sulfur, iron, phosphorus, iodine, manganese, copper, zinc, & silicon and is a good source of magnesium. It's also the cheapest to those of us in the U.S. because it's domestically sourced.
Celtic Sea Salt brand salt has no additives and is not processed in any way beyond drying and grinding. It's hand harvested and is Nature et Progrès certified which is the highest level of organic and high-quality certification allowed in France. It does come from modern oceans, though. This is the brand I most often use because I love the taste best.
Pink Himalayan Sea Salt is admittedly a good source of iodine, but the concentrations of iodine can vary by up to 1000%. It's also mined in Pakistan from several sources. Although it does come from an ancient ocean bed, Himalayan Sea Salt is not a great source of magnesium.
After I realized that as long as I eat keto, I'll need to add more salt daily, I started drinking what I call Keto Lemondae. It's basically salted water with lemon, stevia and (optional) electrolyte drops. These days I don't even add stevia because I've gotten used to the taste of salted lemon water.
If I know I've allowed myself to get a little dehydrated, or know I'm going to sweating like crazy at Flywheel class, I'll always add electrolyte drops to my Keto Lemonade to help replenish my body.
ready to begin?
I have created two comprehensive paid keto programs for those readers who just want to get started and not waste time making mistakes or trying to learn all the parts of keto yourself. The first program is a 7 Day Keto Jumpstart program. This program is great for the keto beginner or keto-curious who want to tip their toes into the keto lifestyle and see how they respond to the low-carb lifestyle for a week. The second program is a comprehensive 30 Day Keto Transformation Program. This program gives you everything you need to learn keto for life and tweak it according to your goals and your lifestyle.
free stuff
When you sign up for my email list, you get instant access to the subscriber Resource Library which holds all of the free guide, checklists, cheatsheets, and PDF's that I create for my awesome community. These include guides on how to calculate your macros, digital fasting and meal planners, simple keto meal ideas for breakfast & dinner, The Guide to Thrive, and much more!
sign me up
coaching
Schedule a coaching session with me if you are looking for one on one support.