how practicing yoga invites acceptance, enjoyment, & enthusiasm
A few years ago, I took a workshop with a yogi who told us that there are three stages of 'being' in our yoga practice.
The first stage is acceptance
the second is enjoyment
the final stage is enthusiasm
I thought about this idea a lot. Can I accept all that comes up for me in a yoga class? Doubt, limitations, negative self-talk, fear, perseverance certainly they can all be met with acceptance when they come up rather than resistance, right? Makes sense to me.
I think most people (myself included) just try to get the acceptance thing down in this lifetime. But what about when I see a friend fighting cancer, managing chronic illness, or coping with the sudden loss of a loved one. How can I find acceptance in the midst of such heaviness — never mind enjoyment and enthusiasm?
Come on.
And what does this have to do with yoga?

a story
In my twenties, I worked at an extremely stressful job. As a result of the way my body handled the stress, I found myself suffering from what my doctor called "eye migraines" — a flashing light in the lower corner of my field of vision.
There was no cure, the doctor said, except to try to de-stress.
This is how I came to my first yoga class sixteen years ago. I knew there was some connection between stretching my hamstrings and de-stressing my head but I wasn't sure what that was. Over years of practice in many different yoga studios, I met runners who came to yoga to try to loosen tight hamstrings, retirees with osteoporosis, bodybuilders who were so muscled they couldn't clasp their hands behind their back, and new moms who just wanted ninety minutes for themselves. Any yes, sometimes there have been a few people who, after we lie on our backs in the final resting pose, sob. Whether it's to gain flexibility & strength, burn calories, the camaraderie, or to escape into a tranquil and relaxing space if you observe closely you will see every single student on his or her mat actively engaged in the process of acceptance, or at least trying not to resist the hard things.
Some call it being "in the moment." Like, for instance, when my teacher asks me to balance on my right foot while keeping my left foot firmly planted into my right thigh. Whatever the result — wobbling, fighting gravity, finding balance, or falling — yoga is an exercise in what your body will give you right now and then witnessing what your mind says about that.
Then I am reminded to accept all of it.
Each class is a new challenge of limitations to accepted.
"Now try to put your foot behind your head…"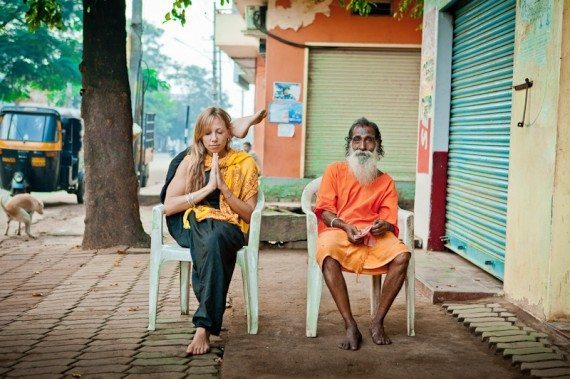 I've seen fellow yoga students call upon hidden reserves of persistence, humility, focus, equanimity, and yes, acceptance. It's incredibly inspiring to witness. Often the hardest poses are only accessible by a profound relaxation of the muscle. It's an acceptance of the difficulty of the pose, the moment of struggle, and life itself.
All this practice gets brought off the mat and into my life. My kids notice when I've been to yoga. I'm calmer and more grounded. I feel yoga leaves me with a protective layer of scales that insulate me from the stressors of everyday life. If I'm protected, I can begin to move past acceptance and think instead of enjoyment and enthusiasm in the face of everything life can throw at me. And when I forget that or feel that my protective 'scales' are gone, I go back for more.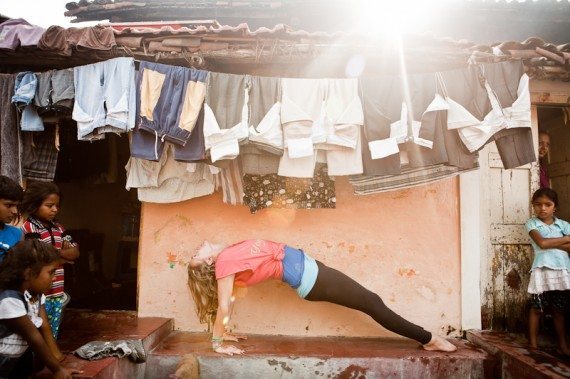 Yoga is truly a "practicing" of acceptance — the first stage of "being." In that workshop the yogi told me if I practice acceptance long enough, I can add in enjoyment and enthusiasm and in the process squeeze out every drop of joy from this crazy life.
Aren't these photos stunning? They're all from Christine Hewitt's site Yogicphotos.

Contact her if you want your yogic portrait taken while in Mysore, India.