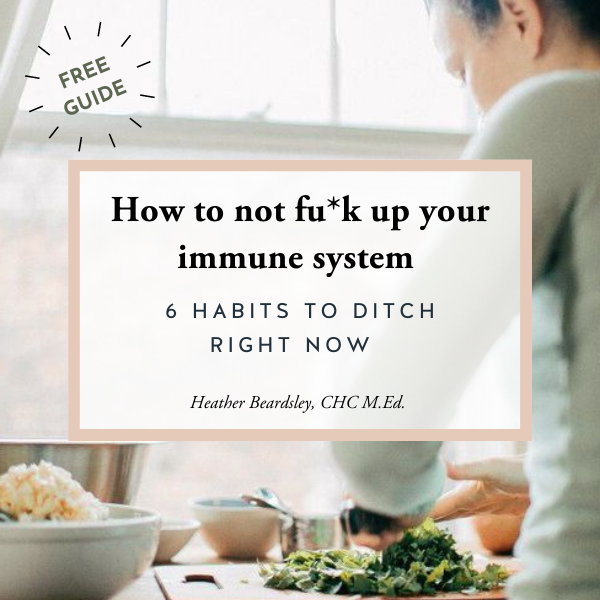 Living in the midst of the COVID-19 pandemic, many of my readers and clients want to strengthen and give their immune system a boost to be able to stay healthy &/or recover more quickly from being sick.
My approach is to always look at how you may be stressing your immune system first. You need to stop doing things that DAMAGE and depress the immune system before you can ever improve it.
I did some research for you and wrote a simple guide outlining SIX habits to ditch right now that will keep you from fu*king up your immune system. So many people are unaware of common habits that depress their immune system. Even 'good' habits like cardio, if done every single day can leave your immune system stressed and sluggish.
This guide outlines how the immune system works in simple terms so that you can understand how six negative behaviors can depress your immune system and put you at risk for illness, infection, and disease.
I hope that this information empowers you to strategically modify your lifestyle habits to keep your immune system functioning optimally and stay healthy in these times of uncertainty. It's available for my email subscribers to download in the Resource Library..see the top menu item to go there or CLICK HERE. This page is password protected; the password is right there in every email I send you from heather [at] hbeardsley [dot] com.
Want your copy? Sign up for my emails above and you'll be given instant access to this guide PLUS 18+ other FREE high-quality resources to thrive in midlife.
Stay healthy & well,
–Heather