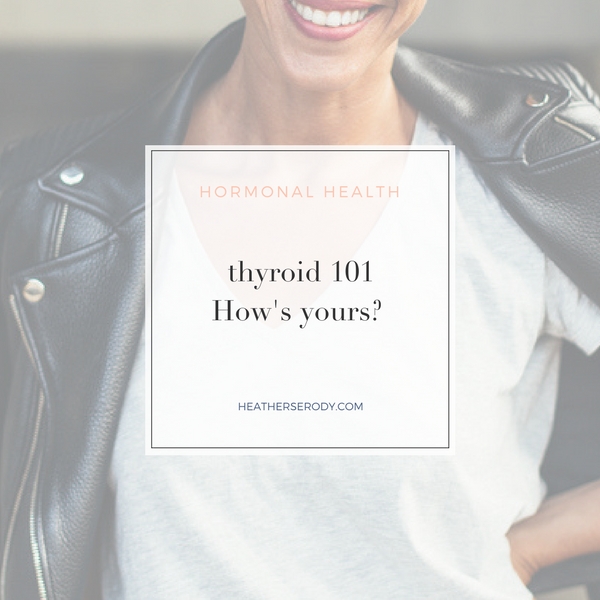 It turns out that with the exception of my rotator cuff tear, all of my health challenges since I turned 41 have been hormone-related. It was not at all obvious to me at the time that my foggy thinking, fatigue, or my inability to lose weight were symptomatic of a larger hormone imbalance. Yes, it turns out that it IS all about the hormones.
I spent way too many years trying to fix my symptoms of a larger issue and trying all sorts of band-aid remedies that never addressed the root cause. Once I understood more about how the larger endocrine system works, and how smaller hormone related problems end up compounding each other and turning into bigger problems, I began looking for root causes and trying to heal those first. I want to help you determine whether or not you may have a thyroid issue, how to find a doctor who can help you, and how your thyroid issue may be impacting your health.
symptoms that point to thyroid imbalance
The thyroid is the master controller that operates all of the other metabolic function in the body – your metabolism, energy production, temperature, sex hormone production, and brain function. Because it controls so many essential functions in the body, you can see that when the thyroid isn't working optimally, a whole host of negative health symptoms can present themselves.
If you have ANY issues with imbalanced sex hormones: low libido, infertility issues, fibroids, abnormal bleeding, PCOS, or miscarriage you should look at your thyroid as a possible cause since the thyroid is the regulator of all your sex hormones.
If you have any brain functioning issues like depression, bipolar disorder, or foggy thinking the thyroid should be the first place you look to heal because overactive thyroid gland (hyperthyroidism) causes restlessness, hyperactivity, insomnia, and irritability. Alternately, sluggish thyroid (hypothyroid) can cause feelings of depression, and lethargy. Sometimes the thyroid function can swing wildly between these two extremes, mimicking symptoms of bipolar disorder.
If you are experiencing symptoms of insulin resistance like feeling hungry all the time, large blood sugar swings, cravings for carbohydrates, needing to eat all the time or unexplained weight gain (especially around your torso) low thyroid can be the culprit.
If you feel lethargic, cold, or you can't lose weight low thyroid can also be the cause since it is responsible for energy output at the cellular level and also throughout all of the systems of your body.
the thyroid epidemic
Twenty-five million Americans have some sort of thyroid dysfunction and 60% of those people live with terrible symptoms that are undiagnosed. Of those afflicted, one in eight women will be affected in her lifetime making thyroid disease predominately a women's issue. To make matters worse, most doctors don't know how to properly test for optimal thyroid function, leaving millions without solutions.
sign you may be thyroid deficient (hypothyroid)
dry hands
cold hands
loss of the outside 1/3 of the eyebrows
hair loss
difficulty waking
stiff joints upon waking
inability to sweat
depression
weight gain
constipation
infertility
fibroids
abnormal bleeding
loss of sex drive
high cholesterol
You can see how many issues can be caused by thyroid dysfunction. If you are experiencing these you can treat symptoms, but if they are the result of suboptimal thyroid function, then they won't resolve until you deal with the thyroid.
healing is possible
If you suspect that you may have a thyroid imbalance I want you to know that in many cases it IS POSSIBLE to heal your thyroid and FEEL BETTER rather quickly. It's also important to know that many of these solutions are super easy and quick remedies that you can do for yourself. But before we talk about that, we need to figure out whether or not you may have a thyroid issue.
the easiest way to test thyroid function at home
There is a quick and easy way to determine whether of not your thyroid is functioning optimally by taking your temperature as soon as you wake up. This is called the Barnes Method and is often preferred to lab tests because lab results aren't always accurate, and/or you may not have a primary doctor who will order or even know how to diagnose an accurate thyroid lab panel. More on more accurate lab testing below.
Get yourself a fertility thermometer (they are more accurate) and take your temperature the moment you wake up. Record your waking temperature for at least 3 days. you can track your temperature over time for the most accurante results with a temperature tracking chart (free download) – go get it here.
If the average temperature over the three days is less than 97.8oF / 36.6oC then, according to Barnes, one may have hypothyroidism.
Where the temperature is consistently above 98.6oF / 37oC this is an indication that one may have hyperthyroidism. If your temperature falls outside normal ranges, then you need to find a doctor who can help you accurately diagnose and treat your thyroid.
the big problem with lab testing for thyroid dysfunction
The problem is that many doctors are using outdated parameters to test for thyroid function and applying those results to standards that have been proven to be inaccurate today. More distressing is that Endocrinologists (hormone specialists) as a whole seem to be the most entrenched in these outdated standards when they should be the ones who are on the cutting edge. For this reason, I suggest that you do not see an endocrinologist to test your thyroid, as they will probably only test you for T4 levels (which is insufficient for a complete diagnosis) and only prescribe synthetic thyroid (Synthroid) to treat you.
An even larger issue is that many traditionalist doctors strictly go by lab parameters that fall within what the laboratory deems the 'normal range.' Which means that hypothetically if your thyroid function has dropped up to 80% over time, you can still be in the so-called 'normal range' on lab tests, which is absolutely insane.
how to assess the thyroid properly
You'll need t find a doctor who is willing to test and knows how to diagnose how all of these markers translate into optimal thyroid function:
TSH
Free T3
Free T4
Reverse T3
TPO ab (Thyroid Peroxidase Antibody test)
Tgab (Thyroglobulin Antibody test)
You can call your doctor's office and ask whether or not they test for this full panel. If they don't just keep asking around until you find a doctor who does. Doctors who practice naturopathic health tend to be more open to testing accurately for thyroid function.
one step at a time
Hopefully, I am leaving you armed with an action plan to accurately determine whether or not you may have a thyroid imbalance, and how to find a doctor that can really help you if you do. That information is power. Power for you to now take charge of your health and start putting together the larger picture of how to go about healing and feeling your best. Whether your thyroid is at play or not, it's always worthwhile to do a Barnes temperature test first before doing anything else to address symptoms.
In the nest post, I'll give you more information about the causes of thyroid imbalance and what you can do at home to begin healing. If you have questions, please shoot me an email at Heather [at] HeatherSerody.com for my new Q&A series (all questions are discussed anonymously) which can be tremendously helpful for other readers, or just share your experience with thyroid issues with a comment below.
click here to learn how to optimize your thyroid
Save
Save