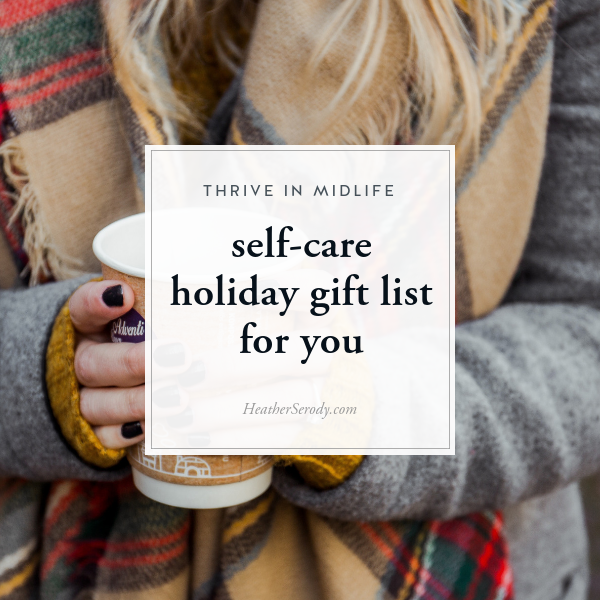 With all the celebrations, gift buying, wrapping, and holiday parties that come with this time of year, it's really easy to lose your self-care and healthy routines in December. Being exposed to all of the carby holiday food and party atmosphere can weaken the best resolve to keep healthy eating and sleep habits.
Over the years I've come to rely on my favorite and trusted go-to products and services that save me time and keep me taking good care of my mind and body during the holiday season. In addition, I make an effort to carve out some purposeful time for myself in December to take an inventory of the year and start crafting my goals for the year ahead. I want to share all of these with you in case you too want to avoid the burnout and exhaustion that the season brings, and instead meet 2019 feeling healthy and strong and planning ahead for an exciting and shiny new year that will have you living your best life.
Take good care of yourself this month, sweetness. xo – Heather
Feel your best: swap your conventional cosmetics for clean beauty products
Beautycounter is my go-to clean beauty brand. Their products are made without questionable or harmful ingredients and they test all their pigmented makeup to be free from lead and heavy metals. Here's a quick list of my favorite products that I use and recommend:
Time saver: grocery delivery service
The biggest gift you can give yourself during the holidays is time. I have tried several grocery delivery services. I recommend Shipt.
Shipt delivers from lots of local grocery stores in your area. You schedule when you want everything delivered, and the Shipt app remembers all of your previously bought items which makes reordering super fast and easy. Shipt delivers from Target, Publix, Costco, ABC Wine & Spirits, and Winn Dixie in my area with a minimum order of $35.00. Try Shipt for free for 14 days using the link below and if you decide you love the service beyond your free two weeks, you'll get $50 off your annual membership (regular annual membership is $99) by using code nm6BT.
Time saver: skip the holiday cards
Let me be the one to gently remind you that there are no awards that go out for sending family holiday cards. Do it if it gives you joy to do so. This year I'm taking the time and money I'm saving and spending it having lunch with some girlfriends.
Make your best life happen in 2019
Late last year I invested in a paper-based yearly goal planner from Laura Casey called the Powersheets Goal Planner. This ingenious planner system walks you through the process of brainstorming, culling, and organizing the goals that really matter to you. Using 90-day increments, the Powerheets method of cultivating what matters remains flexible and fluid while at the same time working like a written vision board to steadily and gracefully organize your outlook and time toward those goals throughout the upcoming year.
As a result of using Powersheets, I've never had a more productive year than I did in 2018! I also got crystal clear about what is really important to me and made some epic upgrades to both my personal and professional life. I can't recommend using Powersheets highly enough. When you order your Powersheets planner you also get access to Laura's December Powersheets prep week full of tools, videos, and grace-filled inspiration to hatch your goals for the upcoming year.
order your Powersheets planner
eat well over the holidays
I order and keep my refrigerator and freezer stocked up with a few key high-quality and delicious low-carb food products to keep my low-carb eating on point. Here's my go-to list:
Butcherbox grass-fed meat delivery – so I always have high-quality protein to defrost & cook in the freezer. I don't have to search for grass-fed in the grocery or stress about the high price point of comparable meat at Whole Foods. It's delivered to me every month and I never have to think about it. Holiday promotion From 12/1-12/31, new customers who sign up will receive a free package of bacon in their first order as well as $20 off their ButcherBox subscription for 2 months (a total of $40).
Nui low-carb cookies – I keep boxes of these cookies in my house AT ALL TIMES. When my sweet tooth strikes, I have a keto-approved and delicious dessert to eat that satisfies my sweet cravings and I never feel deprived. Their peanut butter and NEW Ginger-something are freaking delicious.
Real Good Foods low-carb pizzas, enchiladas, & jalapeno poppers – are always stocked in my freezer for a night when I just don't feel like cooking. The enchiladas are the perfect low-carb small meal or snack and wonderfully delicious. I always keep a stack of pizzas on hand for Friday night pizza night, too. My kids love them, too. When you order online, Real Good Foods ships their products to you frozen and packed in dry ice. You can also find their pizzas in some local grocery stores; like Publix here in Florida.
Stay active & get enough sleep with a Fitbit activity tracker watch
I've been wearing a Fitbit for over 6 years. It gives me real-time information about how much sleep I'm getting, my heart rate during exercise, and motivates me to stay active throughout my day by reminding me to get up from my desk on the hour and get some steps in. Fitbit is now designed to be waterproof and look as beautiful as an iWatch on your wrist while at the same time being compatible with both iPhone & Android smartphones. I wear the Aria & can't live without it.
Stay hydrated
The key to staying hydrated is having a great portable water bottle. Hydroflask keeps your water or beverage hot or ice cold for 24 hours using stainless steel vacuum insulated technology. I do not recommend drinking from plastic containers, so Hydro Flask is the portable beverage brand I recommend. I carry mine with me everywhere I go. Holiday promotion: get 25% off all My Hydro + Free Shipping! Use offer code CUSTOMHYDRO – ends 12/3.
When I'm home you'll always find me carrying around my giant handled Ball 24 oz. Wide Drink Mug with a stainless steel straw. I use the larger smoothie straw and find that when I use it I drink twice as much using one as I do when I don't. Hydration makes a huge difference in how winter skin glows.
Stay healthy & avoid the flu
See my article about the best supplements for women & men over 40. Since I've been taking this supplementation protocol I've not gotten sick in the past 4 years! If you do end up feeling under the weather make some of my magical chicken soup.
Get enough sleep