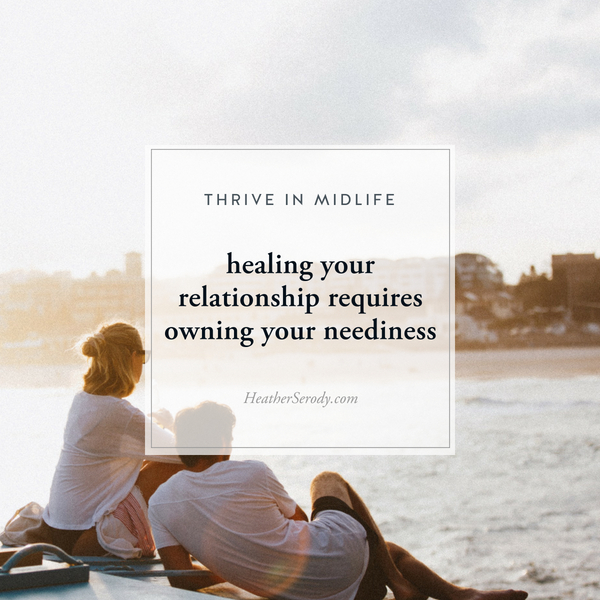 Think back to that time when you were younger and fell madly in love. You didn't quite know how the magic happened, you just instinctively knew that you feel safe, loved, and fulfilled. What was happening was that you were getting your basic human needs met by experiencing:
acceptance/emotional support
attention & affection
companionship/belonging
security/trust
If you got shacked up and had a few kids with that partner, chances are decades later you may no longer be meeting the emotional needs of your partner anymore, nor they, you.
The result of this often shows itself as a habitual pattern of wounding in long-term relationships where I hear things like:
…She never listens to what I say anymore.
…He doesn't want to have sex with ME, he just wants sex.
…I feel lonely sitting right next to him/her.
We know why this happens. We are imperfect human beings, we hurt the ones we love, we become complacent and lazy. We delude ourselves into thinking it's easier not to need than to be rejected or continue to be disappointed by our partners. This is how many of us have become stuck and perpetually wounded.
I'd like to remind you that it is within your right as a human being to ask your partner to meet your psychological human needs if they aren't being met anymore.
My generation born between 1969-1977, has an especially hard time with reliance on others and the idea of owning our essential human neediness. We were raised in the 70's to be independent, without coddling or hovering from our parents. We were given the freedom to make mistakes and fall on our faces. Astrologers call us the Chiron in Aries generation. Chiron is an asteroid that in astrological psychology represents how we handle and deal with woundedness and healing in our lives. Those like myself who were born with Chiron in Aries and are now in midlife are characterized by our independence and ability to suck it up and quickly move ahead despite our hardships.
No matter what sign Chiron was in when you were born, around age 50, everyone will experience Chiron's return to the constellation it was in when you were born, leading all of us on a spiritual quest in midlife to revisit our unhealed wounds in relationships and to find a way to heal.
For the first time in 50 years, Chiron just moved back into Aries in April of this year. Thus, my generation, approaching 50, is being nudged by this Chiron return to heal…which is why I bring up NEEDS. My Chiron in Aries generation has a hard time owning our right to even have needs because of the way we were raised. I personally believe taking the bold step to own our right to have our needs met in ALL our relationships is how we will heal ourselves both in a maco and a personal level.
On a macro level, I see the last presidential election result in terms of the unspoken & unacknowledged needs of my generation – our rising need to be acknowledged, seen, and heard. We have been working hard, raising families, losing benefits, and we have allowed our needs to become overlooked in favor of the louder more entitled voices of baby boomers and millennials. We are tired of carrying the weight of our silent burdens. I think that we can find healing as a country when we can collectively voice and own our needs.
Even the recent #metoo movement is about having the courage to own formerly unexpressed pain, wounding, and owning our human need to tell the truth of our pain transparently, be acknowledged, supported, and believed in order to find healing.
We are in a pivotal moment of healing and growth. It is up to us individually to heal in order for us to heal collectively.
Even if you don't believe in the esoteric influence of the stars on us; you can capitalize on Chiron's fresh return to Aries in your own life by channeling quintessentially Arian traits to heal your own relationships:
the ability to be resilient
an ability to deal directly with issues
showing a willingness to move on and leave past hurts behind us.
In order to thrive in midlife, we will all eventually be called by our Chiron return to heal the unhealed within ourselves, to ask for what we need, to own our vulnerability, to be able to say to our partners 'I need you to…
support me.'
be affectionate.'
pay attention to me.'
include me.'
The next time you find yourself feeling lonely sitting on the couch next to your significant other, I encourage you to channel Chiron in Aries and instead of investing in your woundedness, change it up. State your needs confidently and transparently. OWN them as your God-given right.
Please come here and sit by me and hold my hand, because I'm feeling _________ .(Insert adjective of choice: lonely, isolated, emotional, needy, etc.)
We don't get to escape this human experience without finding a way to own and work with our inherent need for other people to acknowledge support, and give affection to us…to meet our needs. The greatest gift you can give yourself is to own that part of yourself and see how honoring your neediness has the capacity to heal you and transform your life.