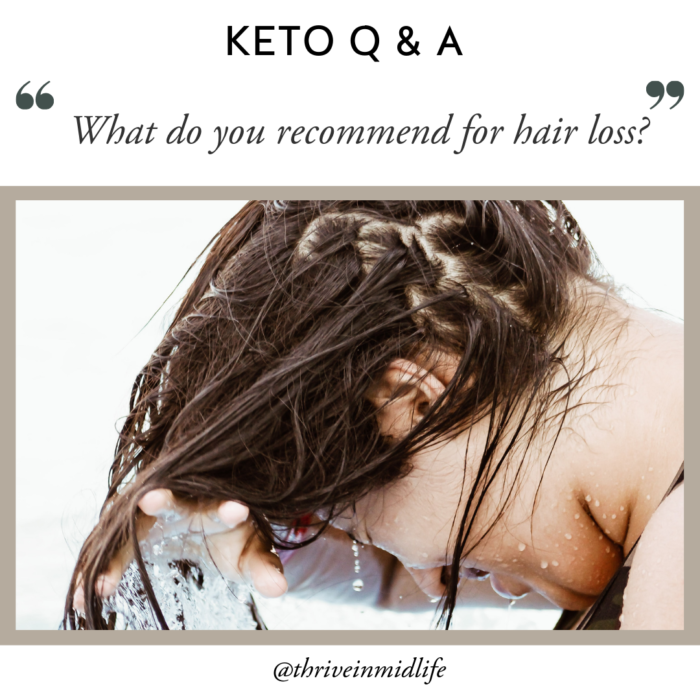 A lot of keto advocates report hair loss on keto, but it's important to remember that hair loss is commonly seen with ANY change in diet – it is not limited specifically to a ketogenic diet. Normal hair loss is considered to be less than 50 hair per day. If you are experiencing losses greater than that; here are some possible answers and solutions you can try.
1. Not eating enough protein. A minimum amount of protein is required every day to prevent muscle loss and adequate protein is an essential part of hair growth. Too many female clients of mine are undereating protein!! To get enough protein – you should be eating .8-1.0 times your lean body mass in protein grams per day. To calculate this you'll need to know your current percent of bodyfat & weight. I have a My Macros Worksheet that tells you exactly how to do this in the Resource Library in the top menu. To gain access to the entire resource library; join my email list by clicking HERE.
2. Not eating enough calories. Too many of my female clients are also chronically restricting calories by perpetually trying to lose weight. Cycle your weeks periodically to eat for weight maintenance weeks and weight loss weeks. Chronic underconsumption of calories stresses the body can cause it to shed hair as a stress response. Again, my FREE PDF called My Macros Calculator can help you figure out the required amount of calories you need every day to maintain your weight and lose weight. Join my email list to access it in the Resource Library by clicking HERE.
3. Chronic stress could be causing your hair to shed. High levels of stress hormones like cortisol can cause up to 10x more of your hair follicles to fall out all at the same time. Please remember that chronic cardio is a form of stress! I see too many women chronically working out HARD every day to try to compensate for crappy eating habits. If your hair is falling out and your hormones are whacked it's probably time to rethink what your body needs. Could it be your relationships that are stressing you out? Your job? Get on the stress management train and start changing your lifestyle to minimize the impacts of chronic stress. Some people find natural stress-relieving supplements helpful like L-tyrosine & 5 HTP.
4. Your sex hormones are fluctuating. Are you in perimenopause? Perimenopause can start in your mid-30's. This phase is often marked by big shifts in hormones both up and down. When hormone levels drop, it can result in hair loss. Ask your doctor for a full hormone panel to find out if your sex hormones are tanked and what your options are. Big hair losses usually happen about three months after the initial changes in physiology; so think back to what was happaening three months prior to your excessive hair loss for clues.
5. Your thyroid is underperforming – could you have hypothyroidism. When your thyroid is underperforming, even just slightly – everything slows down including hair growth. Get a full thyroid panel and do NOT just go by TSH results. For a full in-depth article on this, visit my post HERE.
After my hair loss, which was due to chronic stress, I encouraged new healthy hair groth by supplementing with collagen and biotin (among other lifestyle changes) to encourage new healthy hair growth.
Questions? Leave me a comment!