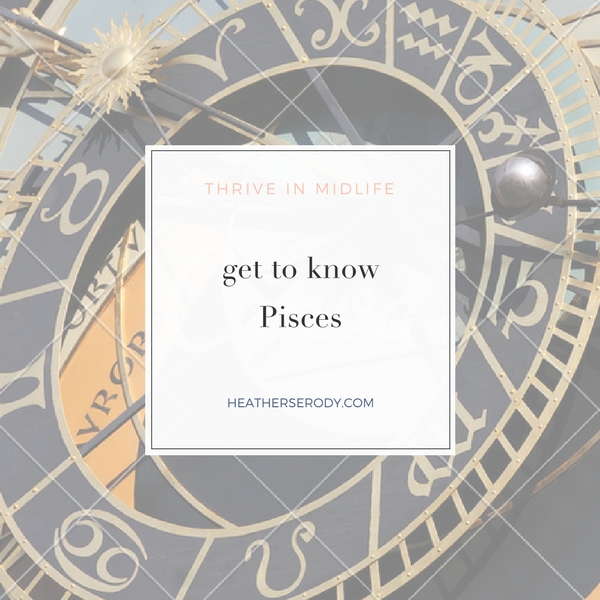 There is value in Astrology in that by doing some self-analyzation and reflection we hopefully begin the process of accepting who we are. Astrology helps us understand what behaviors and attitudes we exhibit when balanced or imbalanced. The more you understand your own proclivities and weirdness the more you understand how very different we are from one another. This fosters understanding and ultimate acceptance that we are all unique. Isn't that what we need more of in this world, to accept each other and ourselves for who we are?
Our sensibilities, motivations, attitudes, and essential natures are completely unique. Understanding your sun sign is just the beginning of getting to know who you are at your essence. For a deeper look at all of the astrological influences that make up who YOU are I recommend getting your free written birth chart reading from Michelle Knight, which is free. The link is at the bottom of this post.
Get to know Pisces
Everyone loves a Pisces due to their kindness, empathetic, and easy-going nature; which makes most everyone want to curl up in their company. Pisces are masters at FEELING everything deeply. Because of this; they are able to flourish and adapt to all kinds of situations and personalities. Pisces primarily connect by using their huge emotional, instinctive, and empathetic capacities sometimes at the expense of ration and intellect. All these factors can combine to produce remarkable creativity, a strong intellect, and creative talent for literature, music and art. Pisces do best around strong personalities who don't allow Pisces to overindulge in their empathic sympathies toward others.
Pisces is also the zodiac sign of self-undoing. They are susceptible to laziness and over-indulging, and they prefer escaping or avoiding difficulties instead of confronting them. Perhaps this is due to their being able to see all points of view; so taking a stand feels overwhelming. Pisces hate discipline and confinement, and a rebellious streak can arise if they find themselves harshly directed or criticized. This rebelliousness can be evident or lie secluded behind their easy-going exteriors.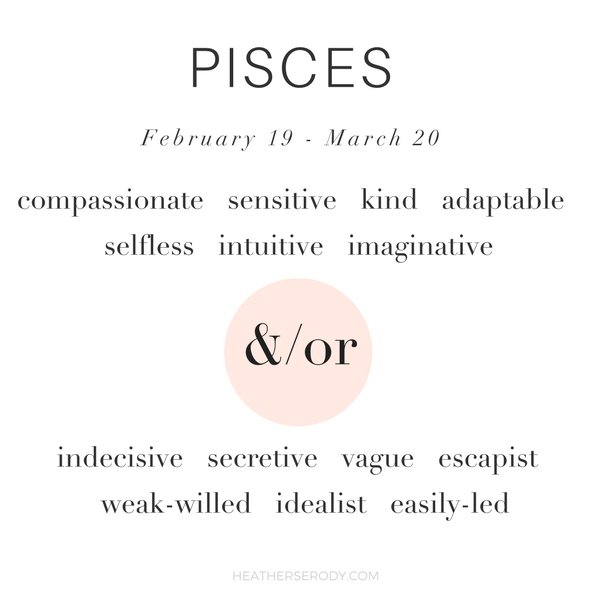 Pisces like nothing better than positive activities that take them out of their own experience – things like sleep; getting lost in the world of books, romance, movies, music, and being around the ocean is what makes them happiest. But the converse is true as well; so that Pisces can be especially traumatized by grief, depression, and loss; as they feel these burdens exponentially more than any other sign.
Positive Attributes
Compassionate, sensitive, kind, adaptable, selfless, intuitive, imaginative, other-worldly, sympathetic
Negative Attributes
Idealistic, indecisive, secretive, vague, escapist, weak-willed, easily-led
Pisces is a

water

sign
Water signs are attuned to feeling and sensing emotions; making water sign especially sensitive. This sensitivity can be used to bring people together, or when out of balance can easily overwhelm relationships. This sensitivity requires water signs to have to work harder to maintain personal boundaries, and not allow emotions to take over.
Pisces has a

changeable

quality
Mutable signs are inherently flexible, adaptable, and thrive on change; even if it's the ability, in Pisces case, to change perspectives. Mutable signs bring people and ideas together.
Associations
Virgo, Soft sea-green colors, moonstone, platinum, tin, feet, water lily, willow tree, fig, lime, mosses, cucumber, pumpkin, lettuce, melon, mammals that like water, fish, Portugal, small Mediterranean islands, Jerusalem, Warsaw, Seville, Alexandria.
Do you recognize these aspects in the Piscean in your life?
click here to get your free written birth chart reading from Michelle Knight
SaveSave
SaveSave
SaveSave