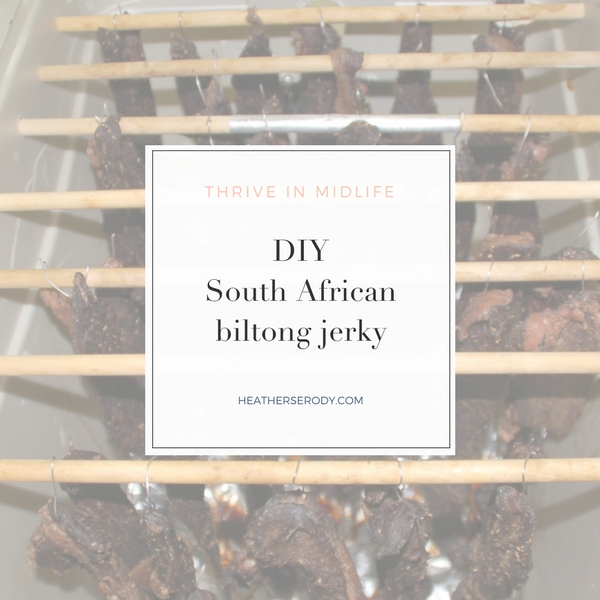 DIY Jerky (Biltong)
The Captain recently brought home some delicious beef jerky called Biltong; which is South African-style jerky. The spices used are different from American jerky, and the cut of meat is thicker. It's really good.
The interesting thing is that it was made quite simply and ingeniously over a five-day period by our friend Fanta using a lidded Tupperware bin fitted with dowels to hand the meat and a small fan to dry it.
Fanta has been making Biltong his whole life – he grew up on a farm in South Africa. I asked Fanta if he would show me how he makes his Biltong while here in The States, and I took a few pictures of his portable set-up in case you'd like to try making South African-style Biltong yourself.
If you'd rather just buy some ready made, try this one.
history
Biltong originated from the Dutch farmers who settled in South Africa. Drying meat back then was necessary for those homesteaders because it was a convenient & portable source of protein. I'm sure Fanta's drying technique is quite different here living and working in boating than how he would traditionally make his Biltong back home. But, no matter how you do it, the important thing is the drying and seasoning of the meat.
the meat
Get a top or bottom round of beef, preferably grass fed. Remove the fat; and cut the meat into 1/2″ – 1″ strips following the grain of the muscle, or you can use flat pieces sliced across the grain.
season
Give the meat a vinegar bath; then roll it in curing spices. Fanta used a ready-made spice mix from South Africa called Safari Biltong. It's got sugar and MSG in it so you might want to make your own. The basic spice mix for Biltong is a blend of vinegar, salt, sugar, and coriander.
hang it
Cut stainless baling wire into a wave shape then hang a slice of beef off either side. If your Tupperware container is tall enough you can hang another slice off the bottom of the top one like this: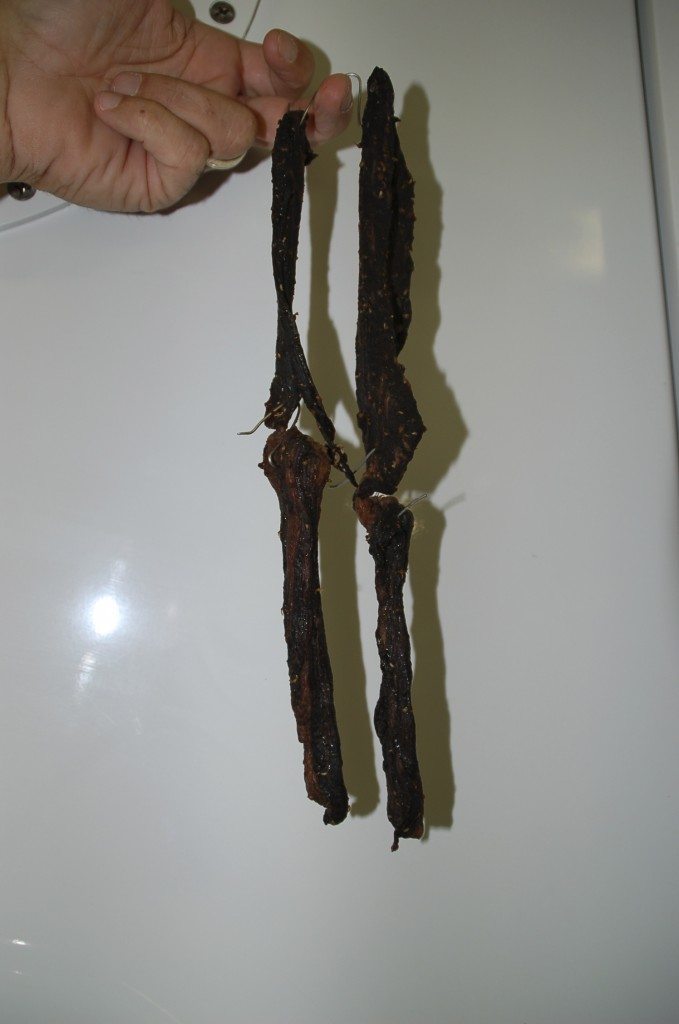 Dry/Cure
Fanta used a large Tupperware container with a lid for a dehydrator. He drilled holes down the length of the bin and strung wooden dowels through them. He lined the bottom with foil and hung the meat from the dowels. A pancake fan was screw-mounted onto the side of the tub and secured with aluminum tape.
With the tub covered, run the fan for about 5 days, or until the meat is stiff and darkened. Heat-drying the meat is not necessary, it's the air drying that is key. The meat shown in these pictures is about 4 days cured and needs a day or so longer. For a medium cure rate, the meat will look just barely pink in the middle. Leave some space between the strips so the air can get through.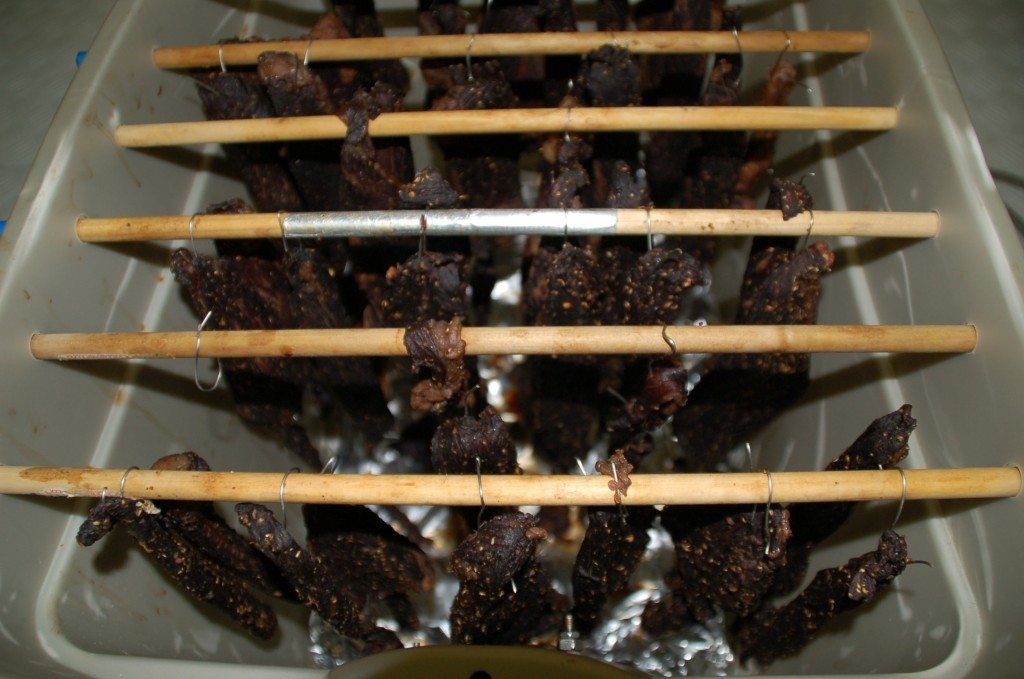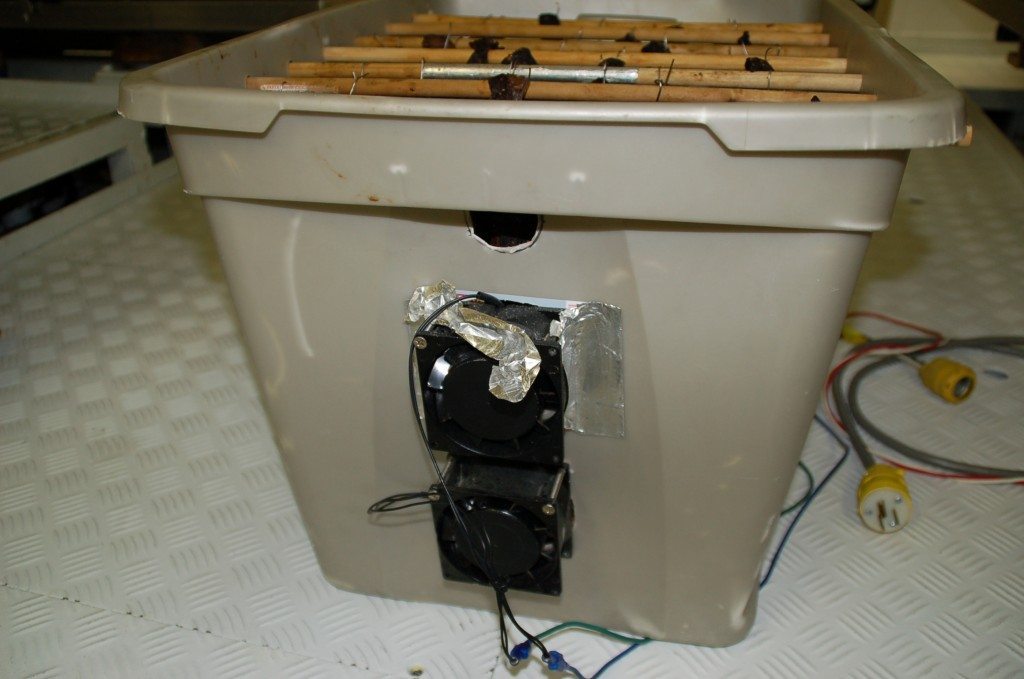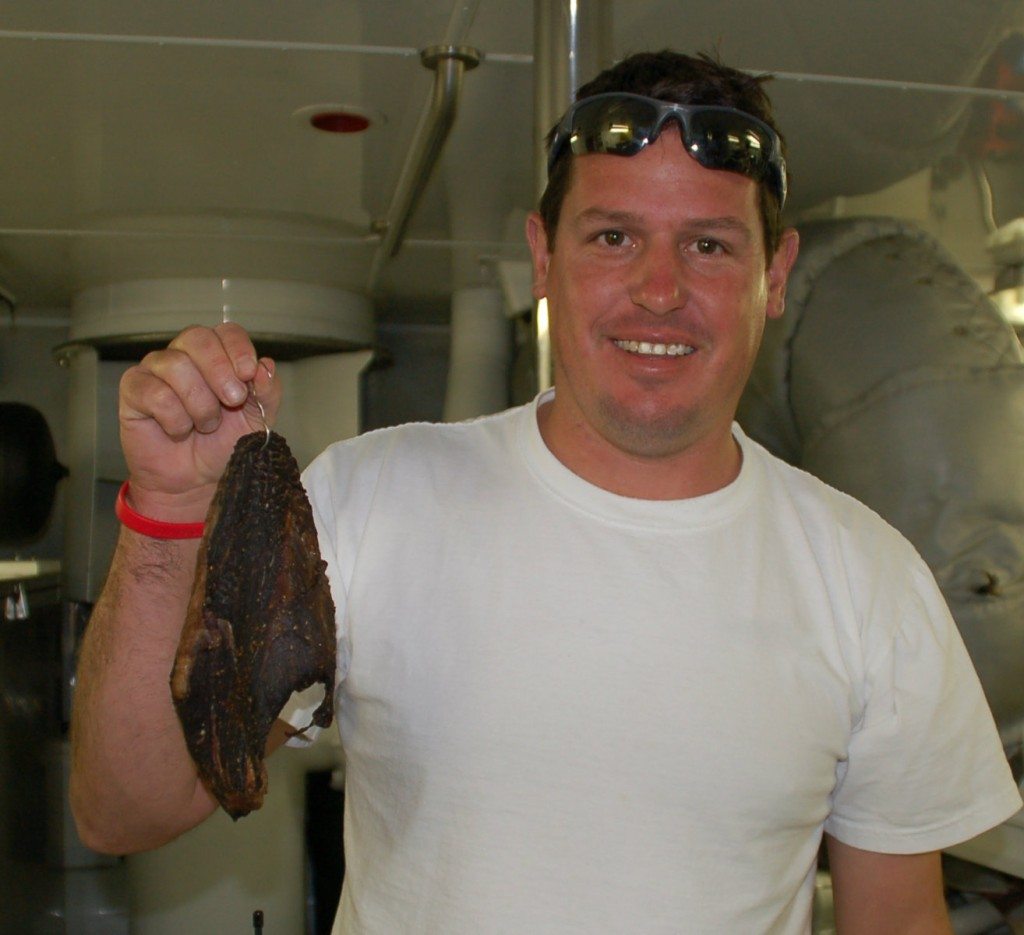 Thank-you, Fanta for sharing your Biltong technique with me!
SaveSave