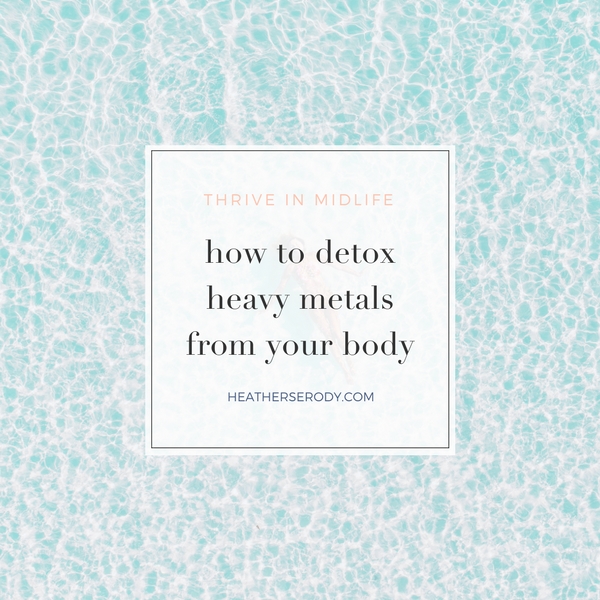 If you suspect that you might have toxic levels of heavy metals in your body that could or are affecting your health, you have a few options for detoxing. There are lots of methods to detox heavy metals from choosing foods that have detoxification effects, to supplements, to doctor-supervised treatments & exercise.
detoxing foods
garlic & onions contain sulfur which helps your liver rid itself of accumulations of lead and arsenic.
foods rich in vitamin C can reduce the damage caused by heavy metal toxicity by acting as an antioxidant. Guavas, bell peppers, strawberries, kiwi, and oranges are all high in vitamin C.
cilantro and green leafy vegetables contain detoxifying compounds that help the body reduce the buildup of heavy metals like mercury in the body. Choose cilantro, kale, spinach, & parsley.
stay hydrated The body needs plenty of water to assist in its natural ability to flush out toxins.
omega-3 fats and fiber can help with detoxification of the colon and reduce inflammation. I recommend consuming animal proteins rich in omega 3's like cold water salmon over taking omega 3 supplements, because supplements can easily oxidize and go rancid.
supplements for detoxing heavy metals
chlorella – take in the morning – up to 4 grams
Chlorella is a fresh water algae that acts as a natural detoxifier. Animal studies have shown it is particularly good at removing mercury. A detoxification regimen means you should be taking chlorella daily as it will work slowly over time. Make sure you take chlorella that is 'broken cell wall' which means that it is digestible, otherwise it will pass through your system without giving you any detoxification benefits.  I recommend starting with a lower dose and slowly work your way up to 4 grams. If it makes you nauseous or gives you diarrhea reduce the dosage.
S-Acetyl Glutathione – take 200 mg daily – take in the morning 

It's the most powerful antioxidant that the body makes. It's an anti-aging powerhouse in several capacities and aids in toxin removal. It's been recently formulated in acetylated form to remain stable and effective in the digestive tract. For this reason only use the acetylated version because without it, the body breaks it down and it becomes ineffective. Many Naturopathic Doctors have traditionally used glutathione for intravenous chelation therapy to remove heavy metals like mercury. So it's fantastic that this powerful supplement is available to use at a relatively reasonable cost compared to what chelation therapy runs. Read about glutathione here and here.

CLICK HERE TO BUY S-ACETYL GLUTATHIONE
Milk thistle is supports the function of the liver in removing toxins by acting like a filter and removing harmful substances from the body. Studies have shown that Milk thistle decreases and can also reverse, damage to the liver that's been caused by heavy metals. I've personally tried milk thistle but I don't like how it cleans out the colon, so although I can recommend it on it's ability to detox, I don't like it's laxative effect so I don't personally use it.
alpha lipoic acid (ALA) 250 mcg – take with S-Acetyl Glutathione in the morningALA is an antioxidant powerhouse that, when used in combination with S-Acetyl Glutathione can really make a difference for you. ALA controls inflammation, blood sugar, and protects your skin collagen structure. Yup, you just read that right. It keeps your skin looking youthful! It also helps the other antioxidants in your body work better, is good for nerves, and also helps your body detoxify heavy metals from the body and therefore is a liver detoxifier. ALA is basically your new best friend in midlife. As we age, we make less and less ALA so this is one instance where taking ALA supplements can make a lot of sense. I like a sustained release formula for better absorption.

CLICK HERE TO BUY ALA
Vitamin C – 1,000 mg – take in the morningVitamin C is a free-radical scavenger that has been shown to reduce lead levels & fights free-radical damage from environmental pollutants. The buildup of free radicals over time is responsible for the aging process. Free radicals may also play a role in cancer, heart disease, and conditions like arthritis. Vitamin C is also necessary for proper adrenal function and is crucial for healing stressed adrenals. Stressed adrenals are no joke. If you have adrenal fatigue double your vitamin C intake.

CLICK HERE TO BUY VITAMIN C
doctor supervised heavy metal detoxification
Chelation Therapy
Chelation involves administering a chemical (usually EDTA) to the body that binds to heavy metals and removes them from the blood through the kidneys into the urine. Chelation can be done orally or intravenously and usually requires 5-30 treatments. Chelation therapy is the gold standard for heavy metals detoxification and has been used for years to detox mercury from the body.
Treatments are scheduled every 1-2 weeks. Treatment depends on your level of toxicity, level of health, and symptoms. Each IV therapy session is followed up with a regimen of supplements to replace the good vitamins and minerals that were depleted with the therapy.
After our detox, my husband & I had our heavy metal tests repeated and saw improvements in all metals; except for cadmium for me, which was discouraging but not unexpected.
exercise
Exercising hard enough that you sweat several times a week will help activate the body's toxin elimination system through sweating. Some people swear by the use infrared saunas but the evidence for heavy metal toxin removal from saunas isn't clear or conclusive enough for me to recommend it.
moving forward
I encourage you to follow your own instincts about your health and work with your doctor to determine whether heavy metals may be negatively affecting your health and if so, invest your time and resources into a detoxifying treatment program.
If you've dealt with the negative effects of heavy metals you know how important it is to safeguard your exposure moving forward. There are several things you can can do to be proactive and stay away from further heavy metals exposure.
CLICK HERE TO READ HOW TO MINIMIZE YOUR EXPOSURE TO HEAVY METALS