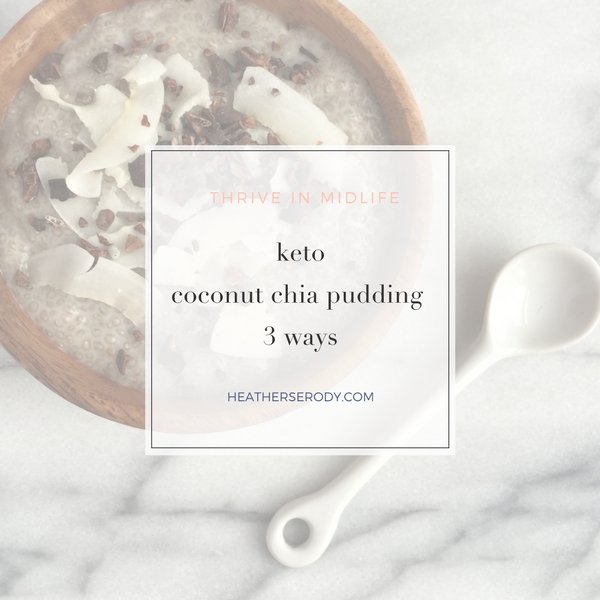 keto coconut chia pudding
When I started eating keto I had rework some of my former favorite 'lite' snacks to become keto friendly. This coconut chia pudding was born to be made keto friendly. I just swapped out lite coconut milk for full-fat coconut cream. I like Trader Joe's coconut cream in the can best because it doesn't separate. I also swapped out the maple syrup for Swerve. Since the coconut milk is naturally sweet, you only need to add a little Swerve and a dash of some ground cardamom or nutmeg; which are both best friends with the flavor of coconut, so experiment with your preferred amounts to your own taste.
I really can't decide which is my favorite so try halving the recipe and make up a half-portion of each to try out.
This chia pudding is an easy no-cook and totally satisfying fat bomb for those evenings when your sweet tooth strikes. Get yourself a big bag of white chia seeds to keep on hand because once you make this and see how easy it is, and how many delicious variations you can make you'll make it all the time. Whole Foods carries white chia seeds pre-bagged or you can order online. Of course, you can use black chia seeds, but I think the white looks so much better in this coconut milk pudding.
I pre-portion my finished pudding into individual ramekins or mini mason jars to have on hand throughout the week. Here are my favorite topping variations:
1. toasted coconut & Lily's chocolate chips
2. Whipped cream & nutmeg
3. Raspberries, 'ketoconut' whipped cream & Lily's keto-friendly chocolate chips.
SaveSave
SaveSave
SaveSave
SaveSave
SaveSave
SaveSave
SaveSave
SaveSave