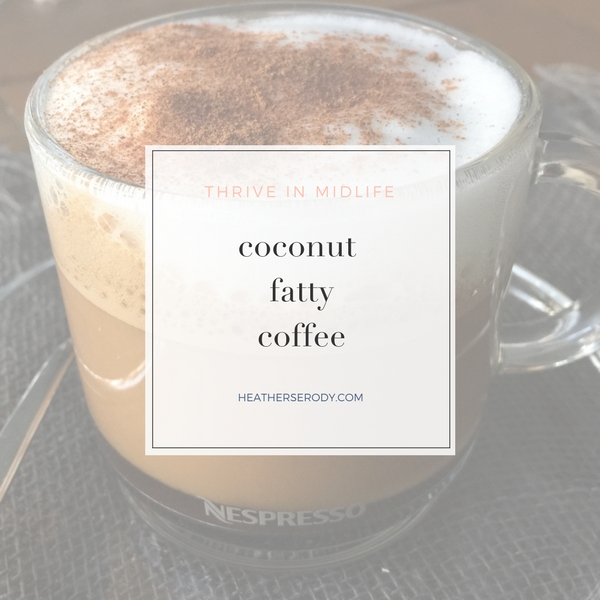 coconut keto coffee
Making keto coffee with added coconut or MCT oil is a nice way to access near-instant energy along with the benefits of caffeine to fuel up for an early morning workout or run. If you don't need the extra calories & fuel that coconut fatty coffee provides, then just make a basic keto coffee.
step by step instructions
step 1: heat milk up in your mug
I pour about 2 Tbs. of full-fat organic heavy cream or half & half in small microwave-safe bowl and microwave for about 30 seconds and then froth it with a handheld frother. Set aside.
step 2: add coffee
Brew a Nespresso espresso 'luongo' (large shot) or however you make your coffee into a mug.
step 3: add coconut oil
Add 1/2 TBS of organic virgin coconut oil to your hot coffee if you are going to have 2 cups of coffee or a full tablespoon if you're just having one. If you don't like the taste of coconut oil, then substitute a good quality MCT oil.
step 4: sweeten
If you like sweetness then add 5-10 drops of your favorite all natural liquid stevia. I'm totally addicted to the English toffee flavor, but there are a bunch of different flavors to choose from.
step 6: emulsify in a mug
Use your handheld frother to emulsify the coconut oil, coffee, & stevia together until it's emulsified. Pour the frothed cream/half & half over top and sprinkle with cinnamon or cacao powder if desired.
p.s. don't overdo the coconut or MCT oil as this can cause gastric distress.
SaveSave
SaveSave
SaveSave
SaveSaveSaveSave