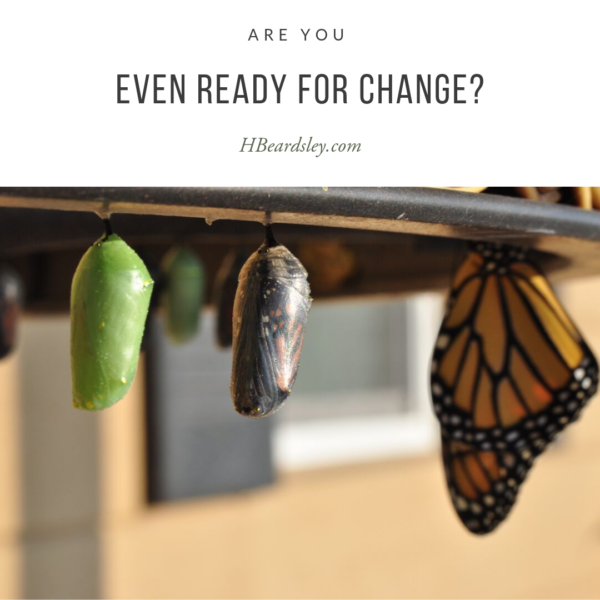 Have you ever thought back to those times in your life when you were able to transform your lifestyle and make changes stick?
That time you lost weight without 'trying.'
That time you changed your diet completely.
That time you stuck with 'X' diet plan and lost 'X' pounds.
That time you got in shape/got stronger/ran daily/practiced yoga regularly, etc.
It's helpful to ask yourself:
What prerequisites were in place in those instances?
Meaningful change ONLY usually happens when SEVERAL KEY factors are in place.
The most important is time spent mentally contemplating the pros and cons of making changes where you ask yourself:
Is changing worth my time, money, and effort?
AND you might visualize yourself benefitting from making those changes. Benefits like feeling more energetic, fitting into those jeans again, feeling more confident, etc. Or perhaps you are highly motivated to avoid a negative health outcome.
IF you decide that the costs of making changes are worth the possible end results AND you have what we call PREREQUISITES of change in place:
1. support from key players – your significant other, a trainer, a friend. etc.
2. knowledge of how to make changes happen – you know exactly what to do
3. your life is set up to support those changes and you aren't in a period of undue stress in other areas of your life.
4. you feel confident that you can PROBABLY BE SUCCESSFUL
AND
5. the time of year is right to support those changes – it's not the holidays, etc.
…then you have set the stage to be the magician of your life and make the magic of change happen!
So you might be thinking,
'Why should I think about this pre-process of change, Heather?'
Because SO MANY of us are constantly thinking about taking off weight, getting into the gym, and changing our diet when the reality is that perhaps none of the prerequisites of change are in place in your life right now. You might be in the middle of a hugely stressful time at work and have NO extra time for yourself. And yet, every day you think,
'I have to eat better.'
Don't do that.
That's just asking yourself to do the impossible. It causes what's called cognitive dissonance where you want two different things at the same time. It causes a war in the mind and SAPS your ability to feel like you are in charge of your life and you can do anything you set your mind to.
I see SO MANY health coaches out there constantly thinking their job is to motivate everyone to 'get healthy' and make changes ALL THE TIME.
I take a different perspective.
You can want to be healthy AND know that you will only invest your precious time and effort in making changes when the time is right and all of the prerequisites are in place.
My challenge to you today is this:
Are you in cognitive dissonance about your health?
If so, please go through the above exercise and decide whether or not you are truly ready for change. If you aren't; then kindly sit yourself down and tell your brain to stop. Make a plan to revisit contemplating changes at a future date when more prerequisites for change are in place (support, stress, right time of year, and knowledge of what to do) and then just go out and ENJOY today.
If you still want to work toward changes AND you feel like it, work on some of those prerequisites that might be absent. Figure out how you can get some social support. Decide to target your stress at work and see how you can bring that into a better balance, etc.
My clients who DO BEST with making significant changes and make them stick are REALLY GOOD at recognizing and taking advantage when the time is right for implementing changes. These 'change windows' only happen every so often and you've got to take ACTION when you are ready and everything in your life is in place to support those changes.
If that's you right now then YAY!
If you are ready to take off the pounds and change your metabolism then consider that The 30 Day Keto Transformation Program provides you with many prerequisites for change that you may be looking for including giving you the knowledge, support, and structure of adopting a ketogenic way of eating.
What you get in the 30 Day Keto Transformation Program:
1. Program Guide: a step-by-step manual showing you exactly how to focus on whole foods and remove toxicity from your body. So, we can set the stage for beautiful hormonal balance.
2. Suggested Meals: 4 weeks of suggested meals with macros and print & go shopping lists to help you stay on track and take the guesswork out of meals.
3. Shopping Lists: to make trips to the supermarket super simple, which makes prepping, preparing, and cooking for your Ketogenic Journey EASY PEASY!
4. Recipe Guide: packed with 30 scrumptious recipes that will improve digestion, decrease inflammation, and keep you feeling satisfied.
5. Support: you can completely DIY it or get coaching with me.
AND it's no coincidence that I'm offering it to you in September which is traditionally a great time to make changes before the holiday set in. PLUS…
I will only be offering this 30 Day Keto Transformation Program at ($20-$50) OFF the regular price until next Friday 9/21!
Listen, I'm not here to sell you a line of BS to get you to buy my program. If you've been wanting to try keto and you're RIPE for change then…
LET ME HELP YOU REACH YOUR GOALS.
If you're ready to say goodbye to dieting/keto CONFUSION, break free from eating patterns that leave you feeling hungry, lethargic, and fighting constant cravings, and START HEALING YOUR BODY ON A CELLULAR LEVEL then…
…to see if it's right for you right now. And if not then go out and enjoy the day today. My programs & I will be there for you when you are ready.
The next launch of new programs & end-of-season sales will be happening again right before Christmas!
Talk soon!
P.S. Everything in SHOP is on sale until 9/21 so have a LOOK!