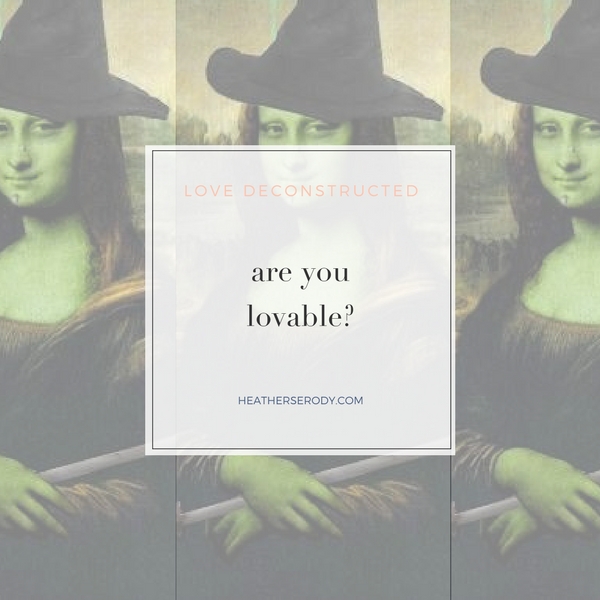 Remember when you fell in love? I'd describe it as a 'beginners mindset' love. It's really lovely; remember? I've been with Captain for 21 years; we have two kids, and he travels six months out of the year, so for me, resurrecting the beginner love mindset is a necessary practice in my marriage. My method is to DECONSTRUCT the components of love into small bites and focus on those regularly. Deconstructing the elements of love and giving them attention and renewed priority has the power to reconnect you with your inner love-muffin. Let's have some fun with this over the next few days…and see what happens.

are you lovable?
Of course, you are. The Wicked Witch of the West scared the crap out of us because after all, she was just a girl who desired a magical pair of shoes.
Her heart got kind of broken about it, she felt bad about herself, and there you go.
It happens. Our hearts are continuously breaking from the time mommy first leaves the room. That's a lot of scar tissue that can build up over time. Then the brain hardens the pathways to the heart to protect it.That's the brain's job – to keep you alive and not hurting. Unfortunately, the brain doesn't know the difference between a bad break-up and a polar bear attack. You're the end-product of millions of years of successful evolution because your brain kept you alive, fearful, and protected.
Darwin would tell you that your facility for hardening your heart in order to survive is excellent. The older you get, the more you've been kicked around, the more scar tissue you've got, the more you can seem, well, unlovable at times.
Guilty as charged.
stretch your heart
We counteract the tendency for the body to become rigid and unforgiving as we age by doing yoga, so how about we do some proverbial yoga for the heart? Try some of these anti-aging exercises for the heart and recapture your full capacity to be loved and reveal your delicious gooey center to those who love you.
Smile. At everyone.
Give your brain the day off and let your heart take over. See what happens.
Try on a 'beginner's mindset' when relating to people. Try seeing them – really seeing and hearing them – as if for the first time.
Do something nice for someone else today.
Hug everyone you love. Really hug them.
Ask for what you want. The brain will start screaming 'no!' but don't listen. Let the heart ask for the thing it desires; even if what you really need is something from yourself.
Want more love, deconstructed? Day 1 / 2 / 4 / 5 / 6 /7
SaveSave