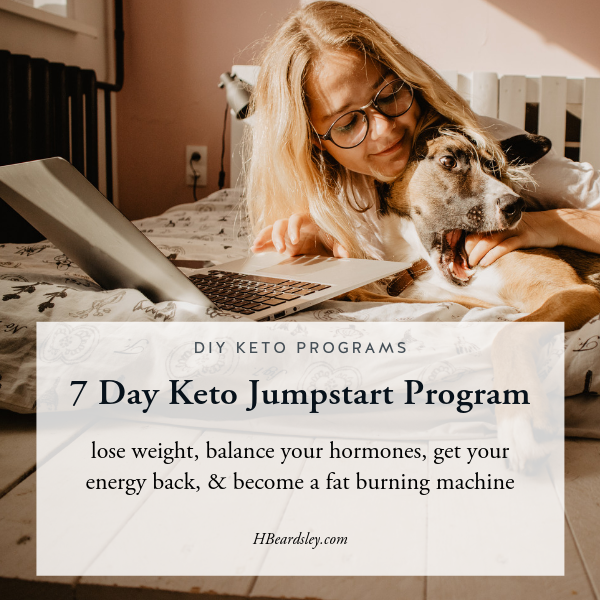 Have you grown a midlife gut that you can't get rid of? You've likely become carbohydrate intolerant. Did you know that's something you don't have to live with? You can lose your midlife bulge AND heal yourself at the same time IF you are willing to change the way you eat.
Even if you are eating a traditionally 'healthy' diet – limiting sugary foods and refined carbohydrates for whole grains, eating fruit, and sweet potatoes you may still be overweight, have strong cravings for sugary foods and feel completely frustrated at your inability to lose this weight using all of the methods that used to work before. First, I want you to know it's not unusual for these issues to happen from your mid-thirties on because 75% of us are genetically disposed to eventually become carbohydrate intolerant.
Why does this happen?
Experts debate the exact reasons, but for most midlifers, it's a combination of the following factors:
Genetic predisposition to carbohydrate intolerance
A sedentary lifestyle
A typical modern lifestyle of chronic stress and lack of sleep
Residual metabolic damage from decades of calorie restriction and consuming high-carbohydrate processed foods
These factors can reduce your ability to process carbohydrates over time, and suddenly in midlife, you're overweight, out of energy, and nothing works to reverse that – even if you are active and work out.
being constantly tired
having to eat all the time
your A1C being over 5.5
fasting your blood sugar reading over 100
weight gain concentrated in your midsection
…all indicate carbohydrate intolerance and a condition called insulin resistance; which is an inflammatory condition that is a precursor to chronic diseases such as heart disease, type II diabetes, high blood pressure, & obesity. The latest research links insulin resistance with a higher risk for Alzheimer's disease and some cancers, too. If you recognize yourself in this description it is imperative that you take steps to reverse the progression of carbohydrate intolerance by changing the way you eat.
Yes, you can lose weight & heal yourself! Here's what you can do:
The symptoms of carbohydrate intolerance/insulin resistance are indicative that you must drastically decrease your carbohydrate intake in order to stop the progression. This is where learning about a low-carb/keto diet can help you heal your body, lose weight, get your energy back, and over time reverse this condition and heal your body from the inside out.
I specialize in teaching midlifers with carbohydrate intolerance how to lose weight, and get healthy by teaching them how to eat a very low-carb diet called keto. Keto has the power to help you lose weight, get your energy back, and if used long-term, it has been shown to heal carbohydrate intolerance, insulin resistance, metabolic syndrome, and even type II diabetes, too.
There are tons of people out there right now facing the overwhelming task of getting back their health: trying to figure out how to do keto 'right' or worse trying to eat keto and not seeing results. And in the end, they are burnt out, they give up and just go back to their old way of eating which is making them exhausted, puffy, chubby, hungry, and crabby. You need tools, information, support, and a specific plan of action that is simple!
That's why I created the 7-Day keto Jumpstart Program!
I'VE GOT YOUR BACK!
LET ME GIVE YOU THE TOOLS YOU NEED TO ROCK OUT THE KETO LIFESTYLE!
click here to check out the program
My 7 Day Ketogenic Jumpstart Program will help you gain an understanding of your body, how keto really works and how you can implement it easily and safely in your lifestyle, to create long-lasting and amazing results. Keto is not something you should do alone when you are first starting. That's why I am here. I will give you all the tools and information you need to avoid feeling confused, frustrated and alone.
Imagine:
1) A clearer, glowing skin
2) Better Sleep
3) Amazing Focus and Mental Clarity
4) Energy for days to do the things you love
5) A healthier and sexier looking you!
ARE YOU READY TO COMPLETELY TRANSFORM?! YOU DESERVE TO BE HAPPY AND HEALTHY!
Eating keto means:
• No more tired afternoons.
• No more counting calories and constant hunger.
• No more trying your hardest and still failing.
• No more frustration
Grab my do-it-yourself 7 Day Ketogenic Jumpstart Program
click here to check out the program
Your 7 Day Keto Jumpstart Program
This is a life-changing 7-day journey where you will discover how to listen to your body and properly feed to boost its fat-burning powers and give you the energy, focus and detoxifying effects that you never even imagined! You'll receive all these life-changing goodies as part of your program:
7 Day Keto jumpstart Guide Loaded with all the info you need to begin the transition into a ketogenic lifestyle – from what not to eat to what to keep in your pantry.
My Macros Worksheet that calculates your personal macros for YOUR body, lifestyle and personal goals.
7 Day Meal Plan with macros
Shopping List
Recipe Guide
Each recipe is crafted based on the guidelines of the ketogenic diet. No need to feel overwhelmed, just grab your grocery list and get to the grocery store. The recipes are designed to taste delicious and be easy to prepare with basic ingredients. We all know how hard it is to buy the right foods – temptation in the store is HIGH. Well, no need to worry about that, I got your back with a gorgeous shopping list! Just PRINT AND GO! And this 7 Day Meal Plan was designed not to be repetitive. You won't get bored, I promise.
Your investment in this program and yourself is just $27.00 – plus you can use it over and over again anytime you need a reset!
What makes this program different?
This program is unlike any others. Remember, KETO is a lifestyle. This is the beginning of your journey to optimal health. I have laid out the foundations for you to live the best life you can live. Without the hassle. Without the need to research. I break it all down for you in simple terms and create a program to maximize the results you're looking for: weight loss, balanced hormones, fat-burning, and steady all-day-long energy!
There are no pills, powders, or shakes as part of this program. That means you don't have to buy any fancy supplements to make it work. You can find everything you need at your local grocery or health food store.
testimonials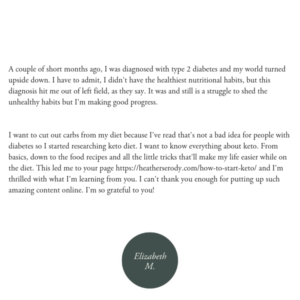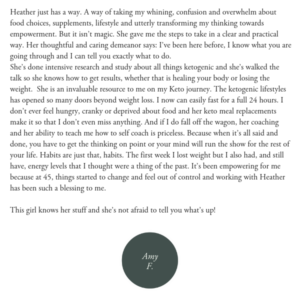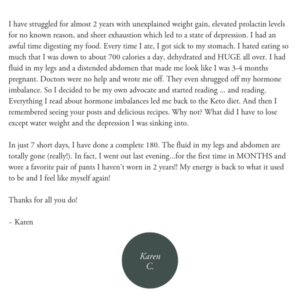 This program is perfect for you if…
• You're ready to ditch the traditional diets and figure out what works for you
• You're ready to say farewell to the clingy pounds that keep following you around
• You want more energy so you can enjoy your life more without feeling exhausted
• You want to look and feel younger with tons of mental clarity and focus
• You want to jumpstart your metabolism and enjoy a night out on the town in that little black dress
• You're busy and want quick, easy tools & recipes that work without causing overwhelm
• You want to fit into your favorite jeans again!
Sound like you?
Then sign up for my 7 Day Ketogenic Jumpstart Program. Just think, 7 days from now you could be experiencing what it feels like to be a healthy, focused, fat burning machine.