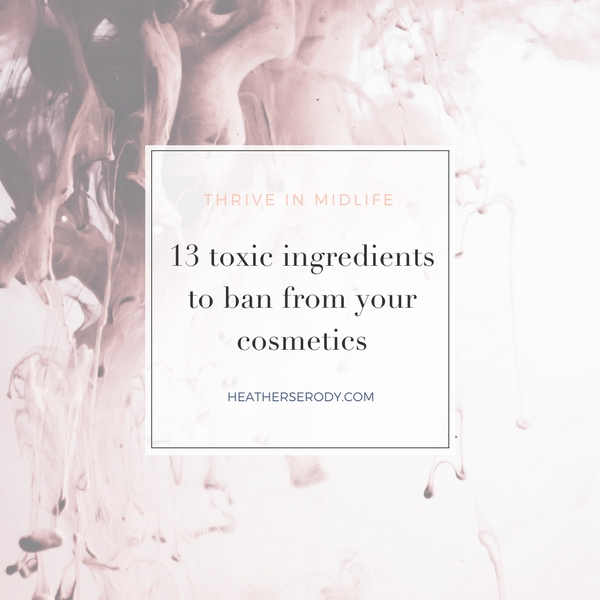 The highly respected David Suzuki Foundation reports that,
'…One in eight of the 82,000 ingredients used in personal care products are industrial chemicals, including carcinogens, pesticides, reproductive toxins, and hormone disruptors. Many products include plasticizers (chemicals that keep concrete soft), degreasers (used to get grime off auto parts), and surfactants (they reduce surface tension in water, like in paint and inks). Imagine what that does to your skin, and to the environment.' *
In light of this alarming reality, I thought it would be helpful to compile a list of the worst toxins found in cosmetics. I call this the Filthy 13; thirteen of the most pervasive &/or toxic ingredients commonly (& legally) found in U.S. cosmetics. I challenge you to have a look at this list and become informed about the toxins that may very well be affecting your health. Then, look for them on the list of ingredients in your beauty products and see how clean they really are. At the bottom of this post is a list of suggestions for how to minimize your toxic exposure & how to choose cleaner & safer cosmetics.
the filthy 13
1. BHA (butylated hydroxyanisole) & BHT (butylated hydroxytoluene):
BHA & BHT are synthetic antioxidants used as preservatives in cosmetics and are known human carcinogens.
2. parabens (paraben, methylparaben, butylparaben, and propylparaben):
Synthetic parabens are derived from petroleum and are easily absorbed through the skin and directly enter the bloodstream where they mimic estrogen and wreak havoc on the delicate hormone balance of both women & men.
3. p-phenylenediamine and colors listed as "CI" followed by a five digit number (coal tar dyes):
Coal tar dyes are used in hair dye & makeup, are derived from petroleum and are known to cause cancer. [3] They may also be listed on ingredients as "FD&C Blue No. 1" or "D&C Blue 1".
These colorants can be contaminated with heavy metals and some are combined with aluminum substrate. Aluminum compounds and many heavy metals are toxic to the brain. [3]
Some colors are not approved as food additives, yet they are used in cosmetics that may be ingested, like lipstick.
4. PEG compounds (polyethylene glycols):
PEG's are also derived from petroleum. PEGs may be contaminated with measurable amounts of 1,4- dioxane, which is classified as a possible human carcinogen. [4] 1,4-dioxane can be removed from cosmetics during the manufacturing process by vacuum stripping, but there is no easy way for consumers to know whether products containing PEGs have undergone this process.
In a study of personal care products marketed as "natural" or "organic" (uncertified), U.S. researchers found 1,4-dioxane as a contaminant in 46 of 100 products analyzed.
PEGs are not safe for use on damaged skin although they are generally approved for use in cosmetics). [5]
PEGs function as "penetration enhancers," increasing the permeability of the skin to allow greater absorption of the product – including potentially harmful ingredients. [6]
5. ethanolamine related ingredients: (MEA,DEA, TEA):
Exposure to high doses of DEA-related ingredients has been shown to cause liver cancers and precancerous changes in skin and thyroid in lab experiments.
Ethanolamines can be listed as the following ingredients: triethanolamine, diethanolamine, DEA, TEA, cocamide DEA, cocamide MEA, DEA-cetyl phosphate, DEA oleth-3 phosphate, lauramide DEA, linoleamide MEA, myristamide DEA, oleamide DEA, stearamide MEA, & TEA-lauryl sulfate.
The EU classifies DEA as harmful on the basis of the danger of serious health damage from prolonged exposure and restricts both the concentration & use of cocamide and lauramide DEA in cosmetics. [7]
6. chemical sunscreens (oxybenzone, avobenzone, octisalate, octocrylene, homosalate and octinoxate):
EWG has reviewed the existing data about human exposure and toxicity for the nine most commonly used sunscreen chemicals. The most worrisome is oxybenzone added to nearly 65 percent of the non-mineral sunscreens in EWG's 2017 sunscreen database. Oxybenzone can cause allergic skin reactions. In laboratory studies, it is a weak estrogen and has potent anti-androgenic effects. [8]
7. synthetic fragrance
Fragrance listed on ingredients list in most cases represents dozens of unlisted toxic or irritating synthetic chemicals.
Many of these unlisted fragrance ingredients are irritants and can trigger allergies, migraines and asthma symptoms. A survey of asthmatics found that perfume and/or colognes triggered attacks in nearly three out of four individuals. [9,10,11,12]
In laboratory experiments, individual fragrance ingredients have been associated with cancer and neurotoxicity among other adverse health effects. [13]
8. dibutyl phthalate (DBP):
DBP is used in nail products as a solvent for dyes and as a plasticizer that prevents nail polishes from becoming brittle.
The European Union classifies DBP as a suspected endocrine disruptor on the basis of evidence that it interferes with hormone function, and as toxic to reproduction on the basis that it may cause harm to the unborn child and impair fertility. [14,15]
9. formaldehyde-releasing preservatives: (DMDM hydantoin, diazolidinyl urea, imidazolidinyl urea, methenamine, quaternium-15 and sodium hydroxymethylglycinate)
International Agency for Research on Cancer classifies formaldehyde as a known human carcinogen. Most of the cancer research on formaldehyde has focused on risks from inhalation. Small amounts of formaldehyde may off-gas from cosmetics. [16]
In the European Union, formaldehyde-releasing preservatives in cosmetics must be identified on the product label with the notice, "contains formaldehyde" if the concentration of formaldehyde in the product exceeds 0.05 percent. [17]
10. petrolatum: (petroleum or petrolatum jelly, Vaseline, or petrolatum mineral oil)
Petroleum products can be contaminated with polycyclic aromatic hydrocarbons (PAHs). Studies suggest that exposure to PAHs – including skin contact over extended periods of time – is associated with cancer. [18]
European Union classifies petrolatum a carcinogen. [19]
11. siloxanes: (cyclotetrasiloxane, cyclopentasiloxane, cyclohexasiloxane and cyclomethicone, D4, D5)
The European Union classifies D4 asana endocrine disruptor, based on evidence that it interferes with human hormone function, and a possible reproductive toxicant that may impair human fertility. [20,21]
12. sodium laureth sulfate:
Sodium laureth sulfate is another "ethoxylated" ingredient – and therefore has the same toxic effects as PEGs & may be contaminated with measurable amounts of 1,4-dioxane, depending on manufacturing processes. [4,5,6]
13. triclosan
Triclosan can pass through the skin and is suspected of interfering with hormone function (endocrine disruption). [22]
U.S. Centers for Disease Control and Prevention scientists detected triclosan in the urine of nearly 75 percent of those tested (2,517 people ages six years and older). [23]
The European Union classifies triclosan as irritating to the skin and eyes, and as very toxic to aquatic organisms, noting that it may cause long-term adverse effects in the aquatic environment. [24]
what you can do
1. Install the Environmental Watch Group's Healthy Living App on your smartphone which has a database of more than 128,000 beauty & food items that are rated for safety. You scan the barcode to get a quick assessment of safety so you can make better choices.
2. Use Beautycounter skincare & makeup products. Beautycounter is a direct retail beauty & make-up products company committed to a health and safety standard that goes well beyond what's required by U.S. law. Beautycounter has banned the use of more than 1,500 questionable or harmful chemicals through their "Never List" while demanding product performance on par with as any other high-end conventional beauty or make-up product in the market. I was so impressed by their mission and product performance that I have partnered up with them as a consultant/affiliate.
click here shop beautycounter
I encourage you to start thinking about making the switch to safer cosmetics as you run out of products. About 80% of my beauty products & 90% of my makeup now consist of Beautycounter products. I truly enjoy using them for their performance and peace of mind knowing that I am using safe products.
3. Look for cosmetics made in the U.S. from mineral pigments mined in the U.S. which has less toxic contaminated soils than China & stricter laws concerning pollution.
4. Look for products with an Ecocert certification. This certification means the pigments used have no synthetic additives and abide by European regulations that have heavy metals thresholds for 12 heavy metals, not just the 3 that are restricted by the FDA.
5. When applying powder makeup, it's best to hold your breath when applying or exhale when applying so that you do not inhale them.
Also, never allow your child to play with conventional makeups or lipsticks, especially because they do not understand that swallowing it can expose them to toxins. If you are wearing conventional lipstick or makeup do not allow a baby to touch your face because they will put their fingers in their mouth and ingest your makeup. Do not kiss the faces of babies or children if you're wearing lipstick, especially if it is conventional lipstick. The best thing to do to avoid these exposures for yourself and your children is to is to wear clean & safe makeup.
You can find out more about why clean beauty products matter, how to know if you have heavy metal toxicity, what to do about it, and the worst 13 toxic ingredients to watch out for in the products you buy by visiting the clean beauty resources page that houses all of the resources in one place.
source references
Many thanks to The David Suzuki Foundation for providing most of these source references cited here in this post. Please support the work they are doing.
[1] https://www.fda.gov/Cosmetics/GuidanceRegulation/LawsRegulations/ucm074162.htm
[2]https://en.wikipedia.org/wiki/Federal_Food,_Drug,_and_Cosmetic_Act#cite_note-20
[3]Grandjean P and PJ Landrigan, "Developmental neurotoxicity of industrial chemicals," Lancet 368, no. 9553 (December 16, 2006): 2167-8.
[4]IARC Monographs, vol. 71 (1999)
[5]"Quick Reference Table (summarizing publications through Dec 2009)" (Cosmetic Ingredient Review), http://www.cir-safety.org/staff_files/PublicationsListDec2009.pdf.
[6] Epstein, Samuel S, Toxic Beauty, 158-9
[7]European Commission, Cosmetic Directive, Annex III, Part 1 ref. 60.
[8]https://www.ewg.org/sunscreen/report/the-trouble-with-sunscreen-chemicals/#.WoSo9JPwYW8
[9] Kelman, L., "The triggers or precipitants of the acute migraine attack," Cephalalgia 27, no. 5 (May 2007): 394-402.
[10]Kelman, L., "The triggers or precipitants of the acute migraine attack," Cephalalgia 27, no. 5 (May 2007): 394-402.
[11]Millqvist E. and O. Löwhagen, "Placebo-controlled challenges with perfume in patients with asthma-like symptoms," Allergy 51, no. 6 (June 1996): 434-9.
[12]Shim, C and MH Williams Jr., "Effect of odors in asthma," American Journal of Medicine 80, no. 1: 18-22; cited in B. Bridges, "Fragrance: Emerging health and environmental concerns," Flavour and Gragrance Journal 17 (2002): 361- 71.
[13] NTP toxicology and carcinogensis studies of 2,4-hexadienal (89% trans,trans isomer, CAS No. 142-83-6; 11% cis,trans isomer) (Gavage Studies); NTP toxicology and carcinogenesis studies of methyleugenol (CAS NO. 93-15-2) in F344/N rats and B6C3F1 mice (Gavage Studies), National Toxicology Program Technical Report Series (U.S. National Toxicology Program, July 2000).
[14]Towards the establishment of a priority list of substances for further evaluation of their role in endocrine disruption, Final Report to European Commission, DG Environment (Delft, Netherlands: RPS BKH Consulting Engineers, 2002)[15]http://ec.europa.eu/environment/endocrine/documents/bkh_report.pdf. 32 European Commission, CLP Reg, Annex VI, Table 3.2.
[16]IARC Monographs, vol. 88 (2006).
[17]European Parliament and Council, Regulation on Cosmetic Products of 30 November 2009, http://eurlex.europa.eu/LexUriServ/LexUriServ.do?uri=OJ:L:2009:342:0059:0209:en:PDF.
[18]U.S. Agency for Toxic Substances & Disease Registry, "Polycyclic Aromatic Hydrocarbons (PAHs)," ToxFAQs™, September 1996, http://www.atsdr.cdc.gov/toxfaqs/tf.asp?id=121&tid=25.
[19]European Commission, CLP Reg, Annex VI, Table 3.2.
[20]DHI Water and Environment. Study on Enhancing the Endocrine Disrupter Priority List with a Focus on Low Production Volume Chemicals. Revised Report to DG Environment. Hersholm, Denmark: DHI, 2007.
[21]European Commission. Regulation (EC) 1272/2008 , Annex VI, Table 3.2. Sep 2009. http://ecb.jrc.ec.europa.eu/classification-labelling/
[22]Gee, RH et al., "Oestrogenic and androgenic activity of triclosan in breast cancer cells," Journal of Applied Toxicology 28, no. 1 (January 2008): 78-91.
[23]Calafat, A., "Urinary Concentrations of Triclosan in the U.S. Population: 2003-2004."
[24]European Commission, CLP Reg, Annex VI, Table 3.2.